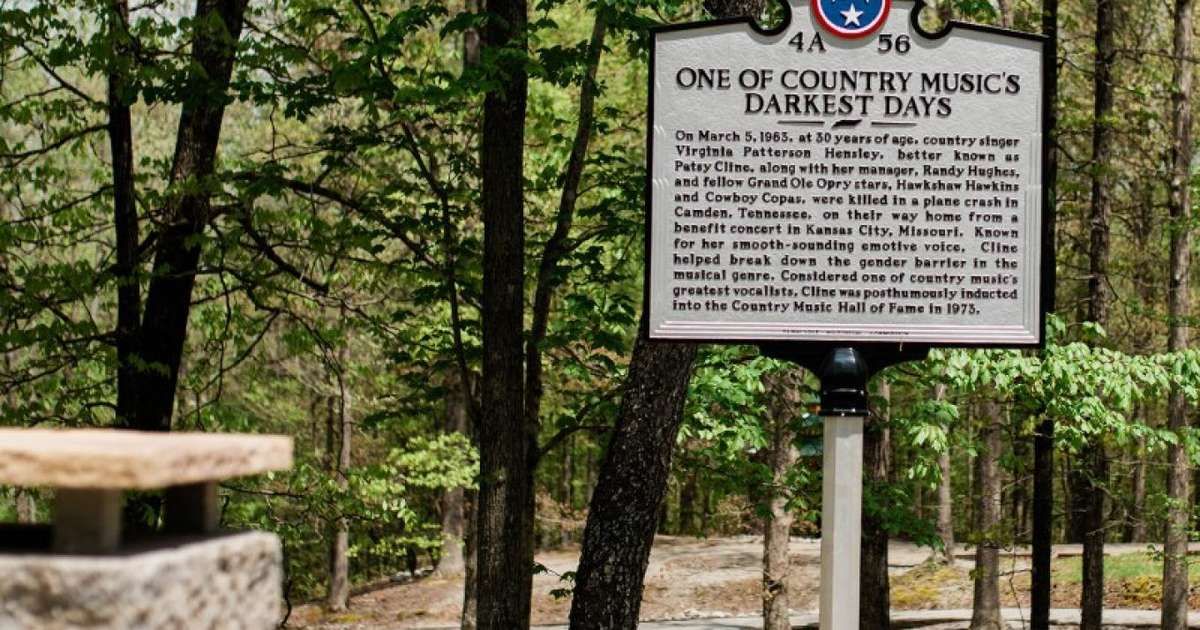 March 5, 1963: Patsy Cline, Cowboy Copas, Hawkshaw Hawkins and pilot Randy Hughes were killed in a plane crash near Camden, Tennessee. The story behind the accident starts with another death, that of Kansas City Disc Jockey "Cactus" Jack Call who had been killed in a car accident on January 25th of that year. Call was on his way to work at station KCMK when his car collided with a semi on Highway 40. "Cactus Jack" had only started work at the station one week prior to the accident. 
A benefit show was put together for Sunday, March 3rd at the Soldiers and Sailors Memorial Hall in Kansas City, Kansas that would raise money for Call's wife and their two sons. The show would feature several Grand Ole Opry stars as headliners including Roy Acuff, George Jones, Cowboy Copas, Hawkshaw Hawkins, Billy Walker, Ralph Emery and Dottie West. Three shows were scheduled for the date; a matinee at 2:00 p.m. and two shows that evening at 5:15 p.m. and 8:00 p.m. Tickets went on sale at $1.50 for adults and .50 cents for children.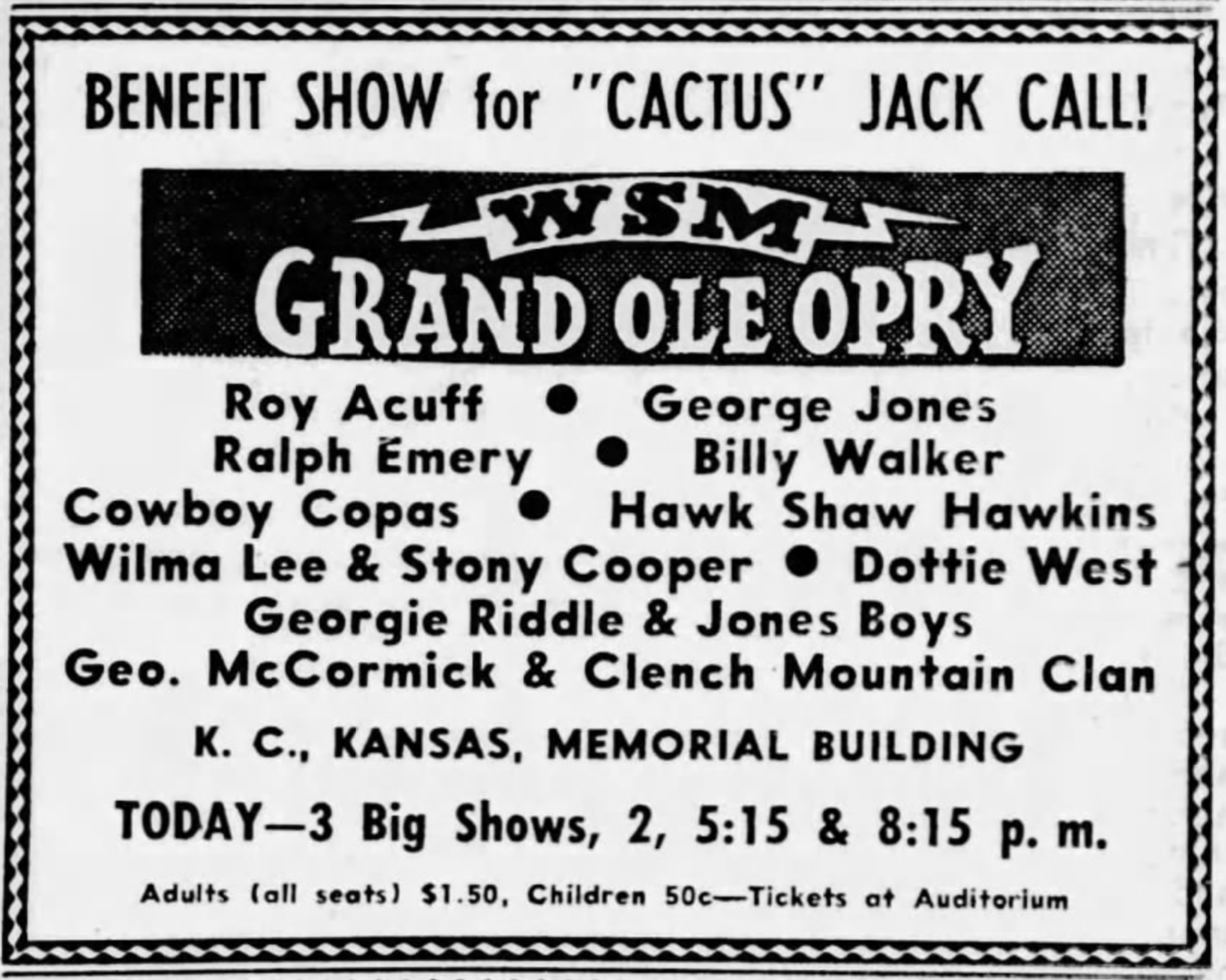 Newspaper advertisement for the benefit show in Kansas City.
Cline was added to the bill at the last minute so her name never
appeared on any promotional material for the concert.
In spite of all the Opry star power, tickets were not selling well so the promoter reached out to Randy Hughes, Cowboy Copas' Son-in-Law and Patsy Cline's manager, to see if it would be possible to add her to the show. The two reached an agreement and Cline was added at the last minute in an attempt to sell more tickets. Hughes, a very new pilot, decided to pilot them to the show in his Yellow Piper Comanche he had acquired only a few months earlier, though he had logged only 44:25 hours in the aircraft. 
Hughes was trained to fly by George Mummert — the same man who would give lessons to Jim Reeves some months later. Since both Hughes and Reeves ended up dying in plane crashes, a lot of blame has been assigned to Mr. Mummert, whom it is unfairly assumed did an inadequate job of teaching these two men. But actually, George was regarded by pilots in Nashville as a very good instructor who would not allow student pilots to slough off. He was a stern taskmaster and stickler for doing things right. 
However, there is another instructor whom Randy and Jim both had in common: Elmo Merriwether. Curiously, instead of having one of the FAA reps in Nashville administer their flight exams, both Hughes and Reeves privately hired Elmo to do so. He was known to be unduly impressed by celebrities and susceptible to the influence of money. It would appear he passed both these men before they were ready to fly. Hughes made a gross error in judgment in attempting to fly after dark and in inclement weather, and a year and a half later, Jim Reeves got himself into a bad weather situation he could not handle.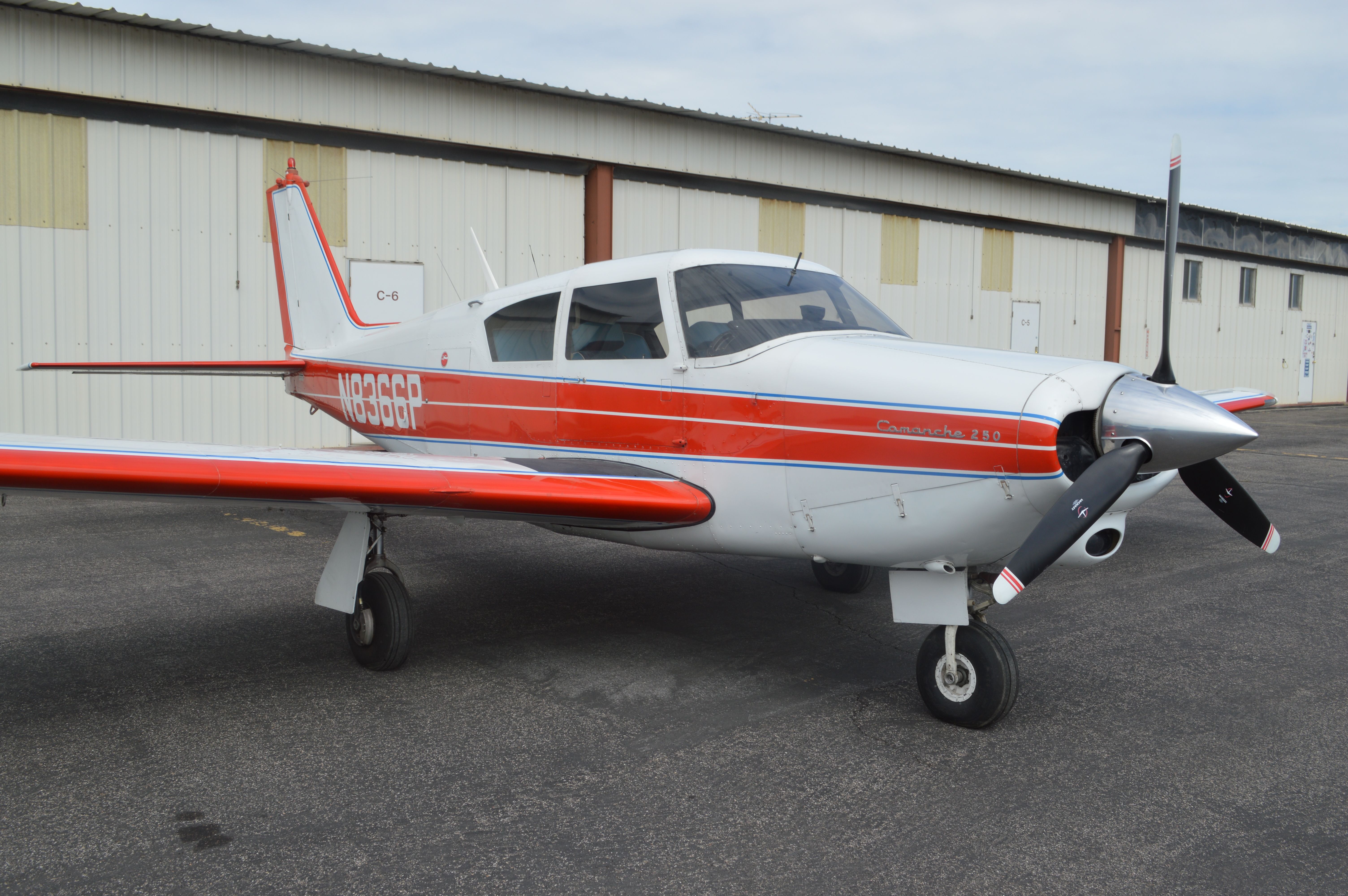 Hughes' Pier Comanche was similar to this one but green with yellow trim
Before the show in Kansas City, local country music fan and photographer Mildred Keith, had brought a book to Memorial Hall that contained photos of country artists she had seen in concert since the early 1950s. Keith handed the book to a security guard who took it to Cline's dressing room. An hour or so later he returned and took her backstage to see Patsy. The door opened to reveal a woman wearing fire engine red lipstick and a long, white dress. "Girl," said Patsy Cline, "you have a treasure." She briefly visited with Cline in the hallway, taking a single photo of her that would become one of only two that have surfaced from that day.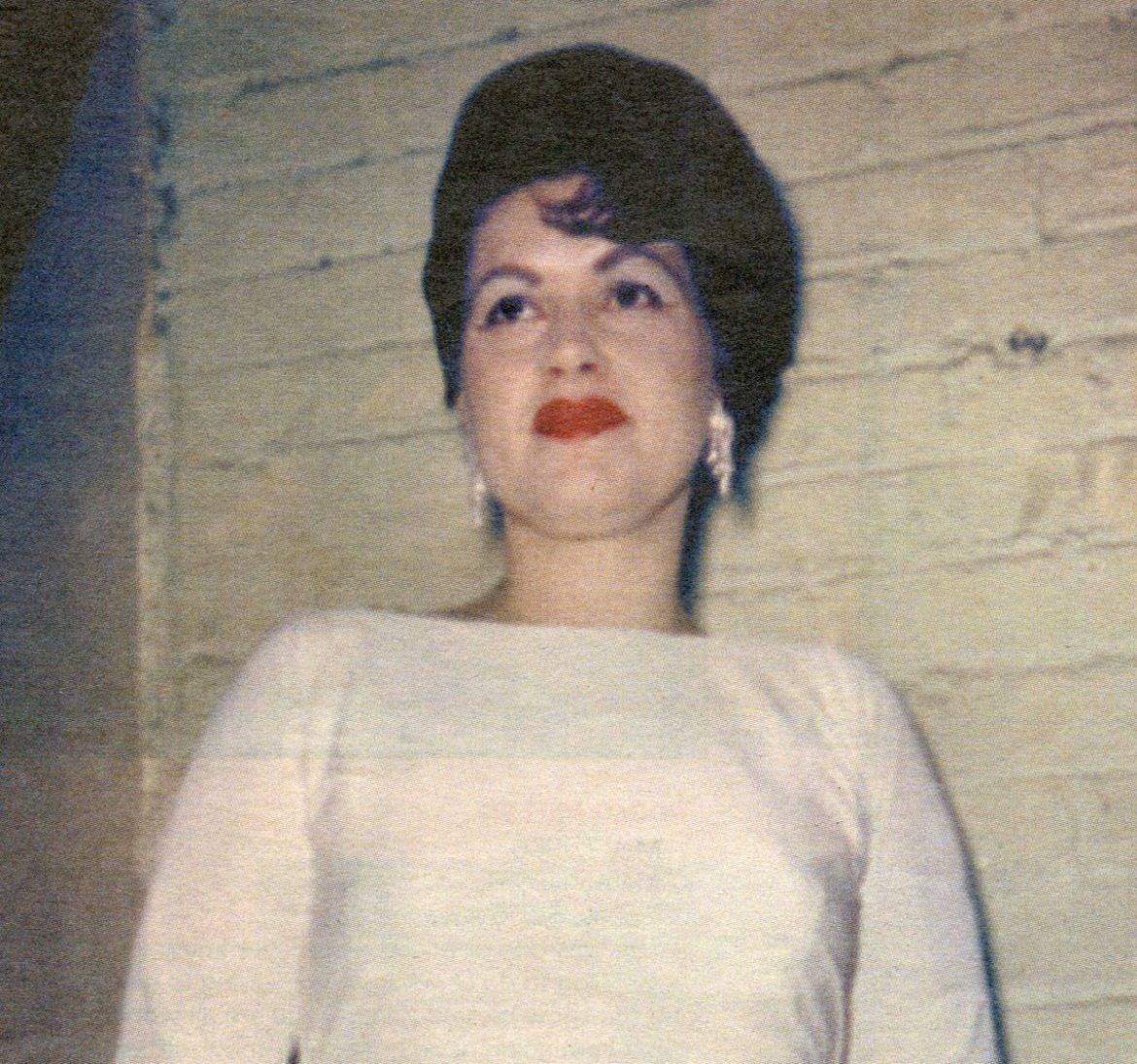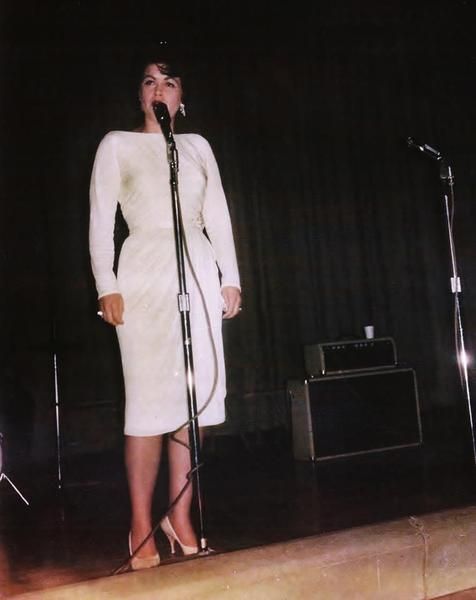 The last two known photos taken of Patsy Cline in Kansas City, Missouri on March 3, 1963
Bad weather moved into the Kansas City area the day of the show making air travel after the concert impossible. Dottie West offered Cline a ride back to Nashville with her and her husband in their station wagon but Cline refused, still hoping the plane would be able to get her back to Nashville a lot quicker than a twelve hour ride by car, reportedly telling West, "Don't worry about me. When It's my time to go, it's my time." Dottie later confirmed that she was surprised and worried when Patsy informed her she would fly back to Nashville in Hughes' small airplane, especially given the weather conditions. 
After the show, Cline, Hughes, Copas and Hawkins checked into the Town House Motor Hotel where they spent the night. They gathered for breakfast the next morning, Monday, March 4th, where Hughes made several calls to the weather bureau only to be told repeatedly there was no clearance for flights. Little information has emerged about their last day and night other than Patsy was battling a cold and was said to have been up most of the night coughing.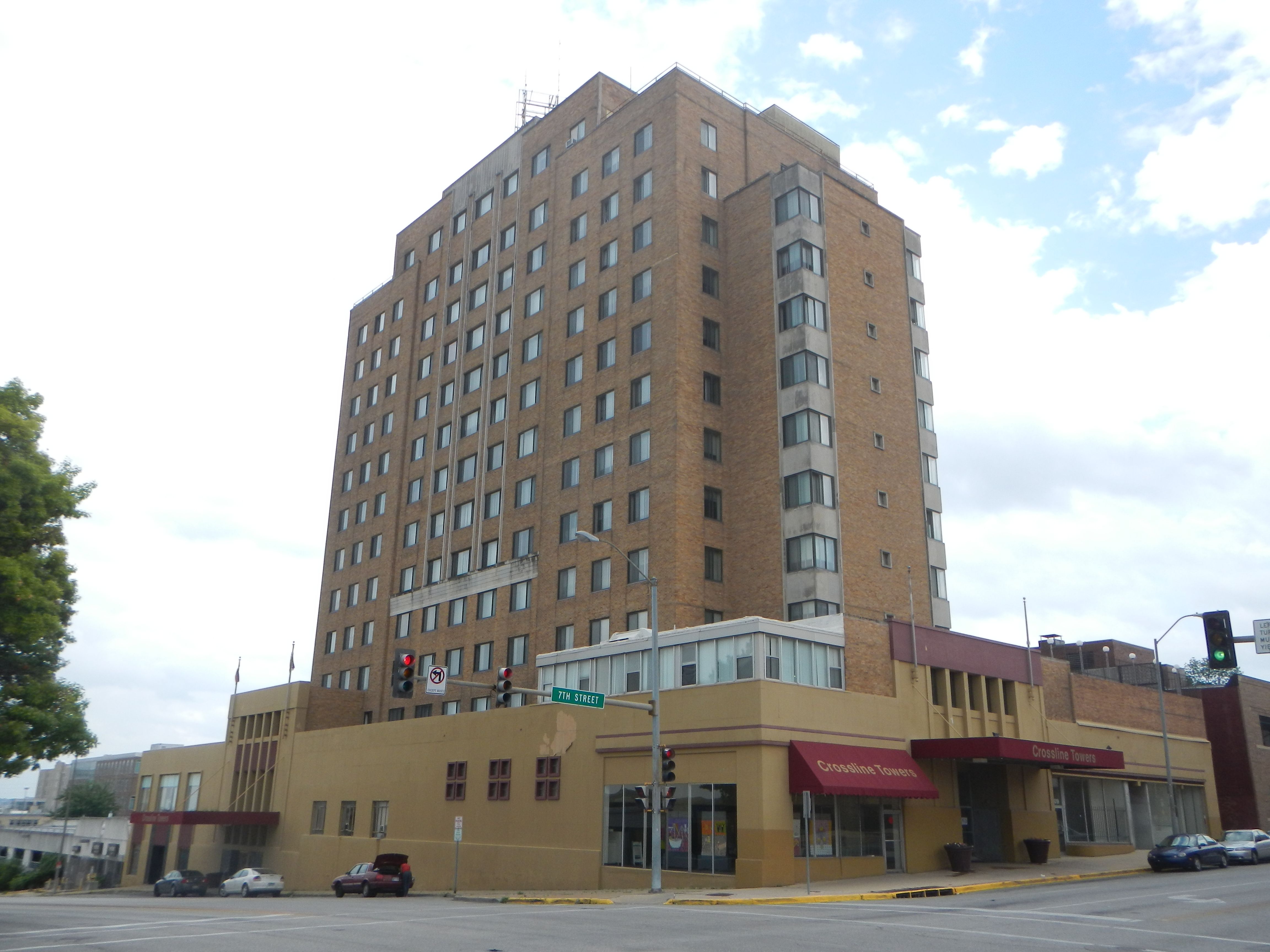 The Town House  Motor Hotel Today
It wasn't until the afternoon of Tuesday, March 5th, that the weather finally began to clear up enough for planes to be cleared for takeoff. At approximately 2:00 p.m., Patsy Cline, Hawkshaw Hawkins and Cowboy Copas loaded their luggage into Hughes' yellow Piper Comanche and departed Fairfax Municipal Airport. It was operating as an unscheduled cross-country passenger flight under visual flight rules to its destination in Nashville, 473 miles to the southeast. 
While the weather had cleared up, they didn't completely escape the storm. Hughes, who was not trained on how to fly using only the instruments, landed the plane at Rogers Municipal Airport in Rogers, Arkansas (220 miles south of Kansas City) for a 15 minute fuel stop before taking off again for Nashville. 
At 5:05 p.m., Hughes landed the plane at Dyersburg Regional Airport in Dyersburg, Tennessee, 170 miles west of Nashville. When the aircraft taxied up to the terminal, William Braese, manager and operator of the airport, greeted the passengers. He recalled that one of the men, who was sitting in the right front seat, got out first and put on his overcoat. Randy Hughes was next to exit the aircraft and commented that this type of flying was tiresome. He had had to dodge storm clouds all the way from their departure, due to a cold front that was moving through. Randy told Braese that the plane wouldn't need much fuel because he had been "hedge hopping' behind the weather front. Patsy Cline was last to get out of the plane, exiting from the back seat. 
Patsy, Hawkins and Copas went to the airport restaurant. Witnesses recognized the four celebrities and someone there claimed to remember that Patsy had ordered a shrimp cocktail and iced tea. 
Hughes proceeded to the Flight Service Station where he requested a weather briefing for the reminder of the flight into Nashville. He was informed by FAA employee Leroy Neal that local conditions were marginal for VFR flight and weather at the destination airport was below VFR minimums. The FAA accident report would later describe them as "turbulent." (Hughes, like Jim Reeves, was only qualified to fly under conditions in which it was possible to navigate by sight rather than solely by instruments). 
Determined to get home, Hughes informed Neal he planned to fly east towards the Tennessee River and navigate to Nashville from there, as he was familiar with the terrain along the way. His only stated concern was a television tower north of Nashville. Neal again reminded Hughes that darkness would come early due to the cloudiness at which point Randy asked if the Dyersburg runways were lighted at night, in case he had to return and Neal told him they were. 
Hughes then went to the airport restaurant and discussed the situation with the entertainers and shortly returned to the weather office. He informed Neal that they had made the decision to continue on to Nashville that night. In the meantime, Randy called his wife Kathy in Nashville and had her call Cornelia Fort Airpark in East Nashville and ask them to turn on the runway lights for their expected arrival.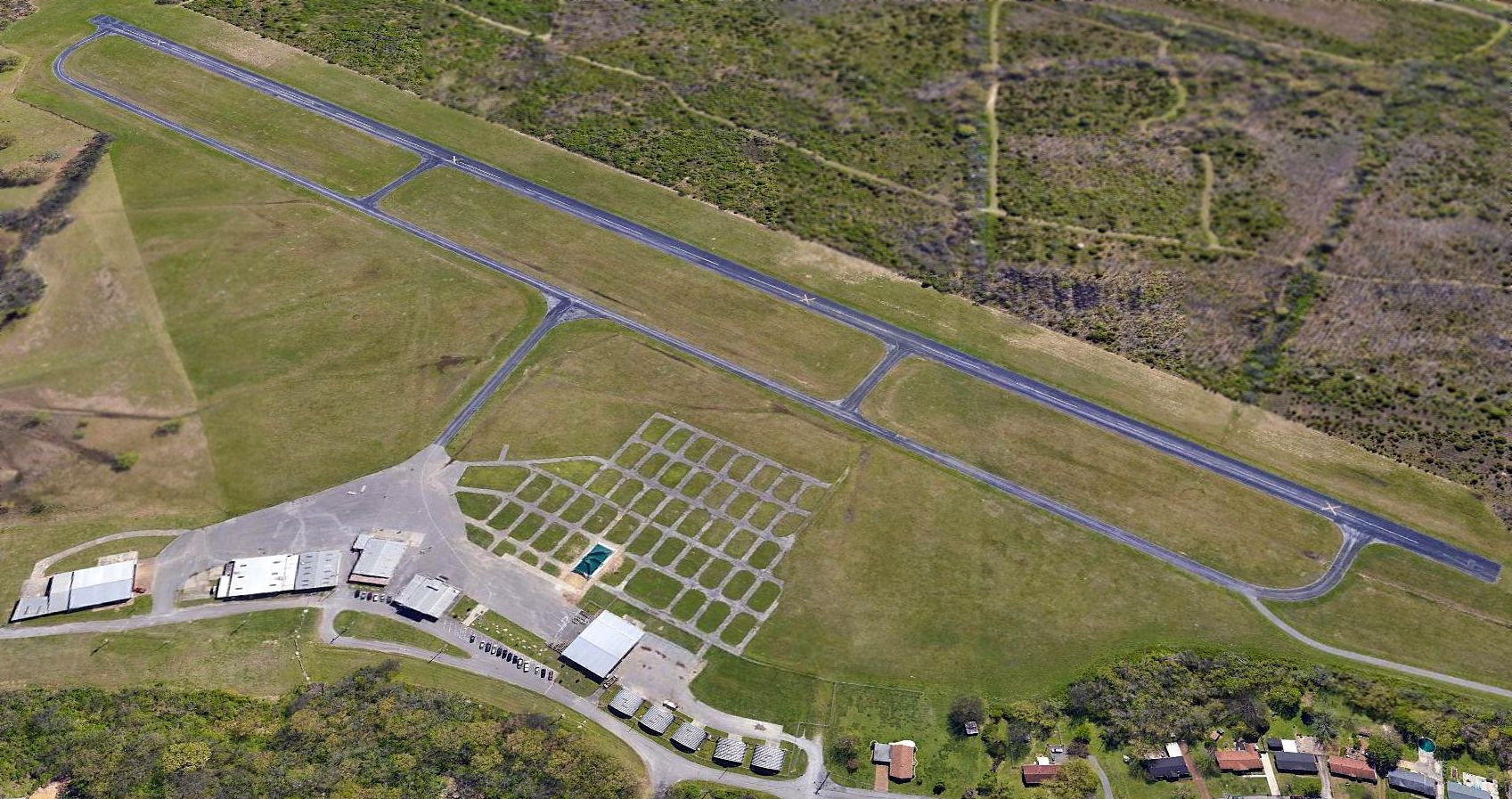 Cornelia Park Airport in East Nashville, Tennessee
Once Braese realized they were going to make the flight, he attempted to discourage Hughes by pointing out the frontal clouds which were visible to the east. He explained the "fade out point" of the navigation radio signal on a night such as this and reminded him that he would be flying over a sparsely settled area where no lights would be visible for VFR. But Randy insisted that once he made it to the Tennessee River, he would be familiar with the terrain beyond that point and would have no trouble and assured them he would return if weather conditions worsened. 
About ten minutes before they took off, airport manager Braese claimed to have overheard Patsy Cline, standing in front of the Flight Service Station telling Hughes, "If you want to stay, we will stay and if you want to go, we will go." But Hughes was adamant he could make the flight and get them home safely. Five minutes before boarding the plane, Patsy used the payphone at the terminal building to place a call to her mother to let her know they were leaving and would be home soon.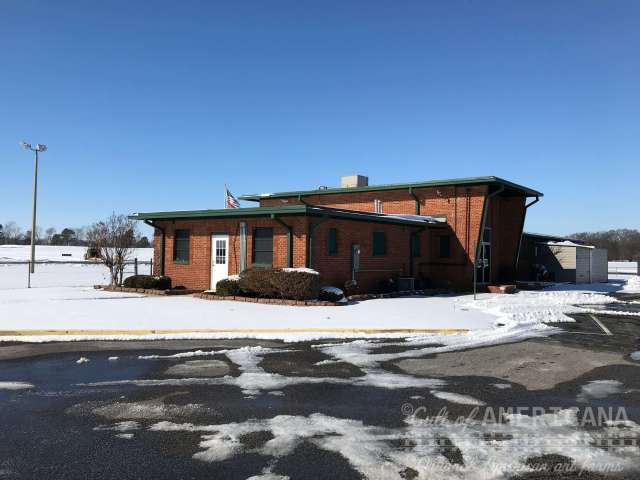 Old terminal building at Dyersburg Municipal Airport, where Patsy Cline made her last phone call.
Read more about this at Cult of Americana
Patsy boarded the plane first, sitting in the left rear seat with Hawkins getting in next and sitting next to her. As the two settled in and hung up their clothes, Hughes and Copas chatted briefly as the plane was refueled before climbing in and sitting in the front two seats. The engine was started and sat on the tarmac for three or four minutes as Hughes requested another weather briefing by radio. The yellow Piper Comanche with green stripes then taxied into position and took off into the storm at 6:07 p.m. 
After takeoff, no further radio contact was made with Hughes. The reported weather at that time was a ceiling of 500 feet (150 m), visibility of 5 miles (8.0 km), temperature of 43 °F (6 °C; 279 K), gusty and turbulent wind from the east at 20 miles per hour (17 kn) and cloudy. 
A short time later, Mr. S.C. Ward — himself a pilot — was in his office about 4 miles west of Camden, Tennessee when he heard a low-flying aircraft on a northerly course pass over his building. He thought the plane must be lost and trying to orientate by the lights of Camden and the highway. Ward was so concerned he immediately went outside. He could hear but not see the aircraft and said it sounded like it was just above tree tops, not more than 300 feet above the ground. As he continued to look for the aircraft, he heard the engine noise increase and seconds later a white light appeared from the overcast and descended towards the ground at a 45° angle. The engine stopped and there was a dull crash, then complete silence. 
Sam Webb, whose farm was near the dense woodlands where the plane went down, said he saw a plane circling his home about 7:00 p.m. and that it was "revving up its motor... going fast and then slow, like it was attempting to climb." Webb said the plane left his sight and then he heard something "like it struck the top of some trees." 
After the witnesses notified the Tennessee Highway Patrol, and estimated the location of the crash site as near a forest fire tower observation post, Several law enforcement officers performed a preliminary search of the area around 7:00 p.m., but found nothing. By 11:30 p.m., a search party was organized consisting of the Highway Patrol, Civil Defense, and local police officers who searched the area throughout the night. Meanwhile, WSM-TV in Nashville broadcast the tragic news that the plane carrying the four Opry stars was overdue and presumed down. 
Singer-songwriter Roger Miller woke up early (or maybe having never gone to bed at all) and learned that the flight never made it back to Nashville. He got in his car and drove west towards Dyersburg hoping to be able to help in the search. He was among the first to find the wreckage at 6:10 a.m., about five miles west of the Tennessee River.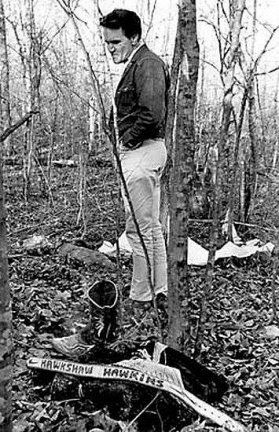 "As fast as I could, I ran through the woods screaming their names–through t
he brush and the trees–and I came up over this little rise, oh, my God, there they were.
It was ghastly." - Roger Miller 
The scene was a gruesome one. The plane's single engine lay at the bottom of a large crater, suggesting that the aircraft had plunged to earth at full speed. Parts of the yellow plane and bits of human flesh were scattered over a 60-yard area a mile off Highway 70 about three miles west of Camden. The wreckage was between the highway and a ranger tower, which had served as a base of operations for searchers. Civil Defense official Dean Brewer, asked whether all four bodies had been located, replied: "There's not enough to count . . . They're all in small pieces." 
Interview with Jerry Phifer who was one of the first people on the scene of the crash.
The plane apparently struck a large tree before hitting the ground. Pieces of the aircraft were hanging in the tree and a three-foot hole marked the spot where the main part of the fuselage impacted the ground. The terrain in the area was so rugged that some searchers returned during the night were covered with bruises, scratches and blood and according to one observer, "looked like they had been in a bear fight." 
After the wreckage was located, about a 100 cars lined Old Stage Road, about 150 yards from the scene. Souvenir hunters had arrived to scavenge the scene. Patsy's money and dress from her last performance were never recovered. Her cigarette lighter was found and later donated to the Country Music Hall of Fame. Her wrist watch, which is on display at the Patsy Cline Museum in Winchester, Virginia, had stopped at 6:20 p.m. Indicating that the plane went down only 13 minutes after takeoff from Dyersburg. Years later, parts of the plane were put up for auction on eBay for tens of thousands of dollars, having been stored for years in the barn of a local resident.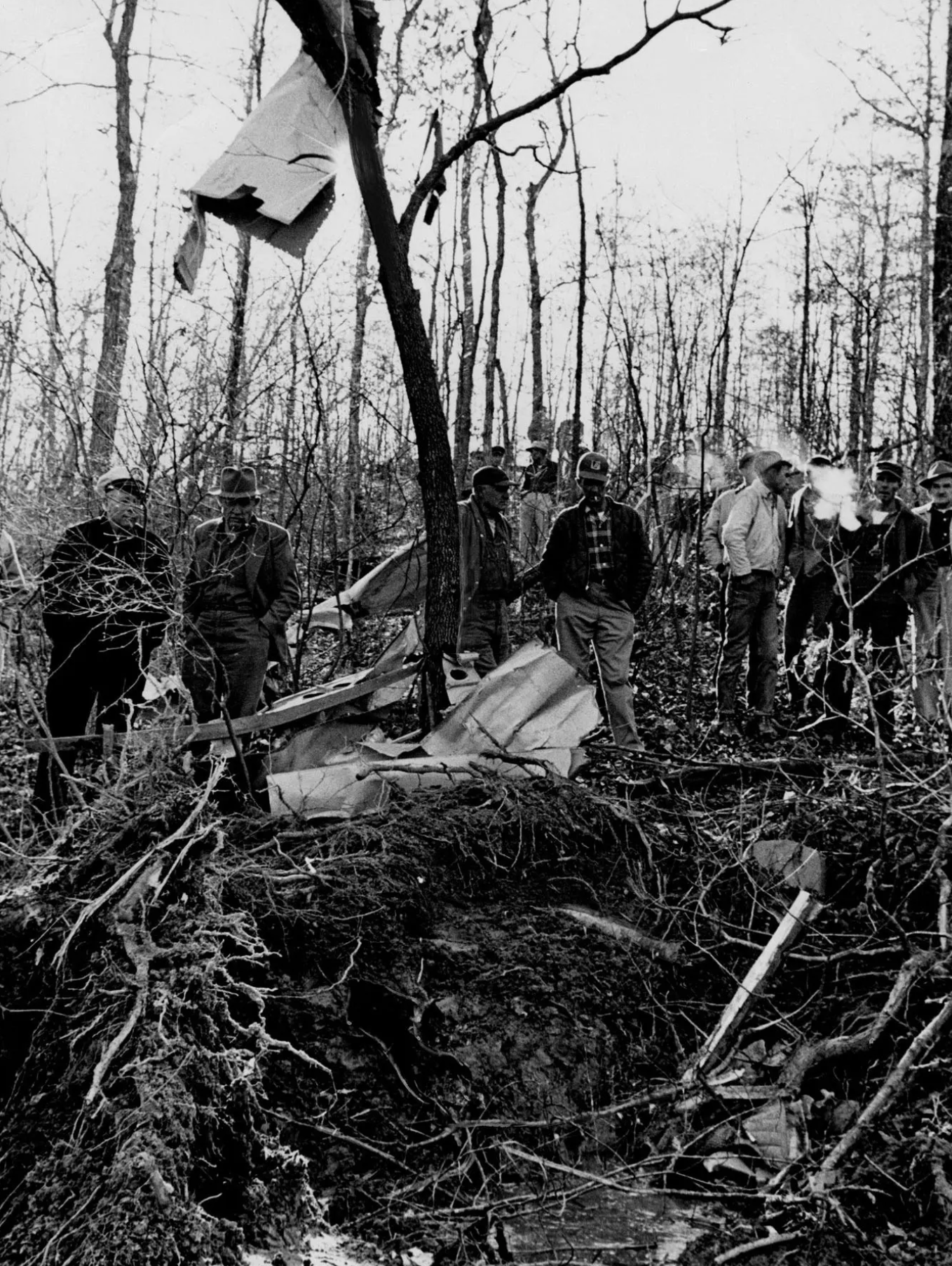 During the FAA investigation, the aircraft's propeller was found to have contacted a tree 30 feet above the ground while the aircraft was in a 26° nose-down attitude. The right wing then collided with another tree 32 feet to the right, causing the airplane to become inverted. The downward angle increased to 45° and the Comanche hit the ground at an estimated speed of 175 miles per hour, about 62 feet from the initial contact. 
Inspection of the airframe and engine disclosed that the aircraft was intact and the engine was developing substantial power before impacting the trees. Investigators found no evidence of engine or system failure or malfunction of the aircraft prior to the crash. The airplane was determined to be slightly over maximum gross weight when it departed Dyersburg airport, but this fact had no bearing on the crash. An autopsy of the pilot discovered no physical or medical concerns that could have been a factor in the accident. 
Investigators believe that Hughes entered an area of deteriorating weather with low visibility and lost his visual reference with the ground. This induced spatial disorientation and eventually led to a graveyard spiral with the aircraft entering into a right-hand diving turn, with a nose-down attitude of 25°. When the aircraft cleared the clouds, Hughes attempted to arrest the high descent rate by pulling the nose up and applying full power, but it was too late. The FAA investigators later found evidence that the propeller was at maximum speed during impact.