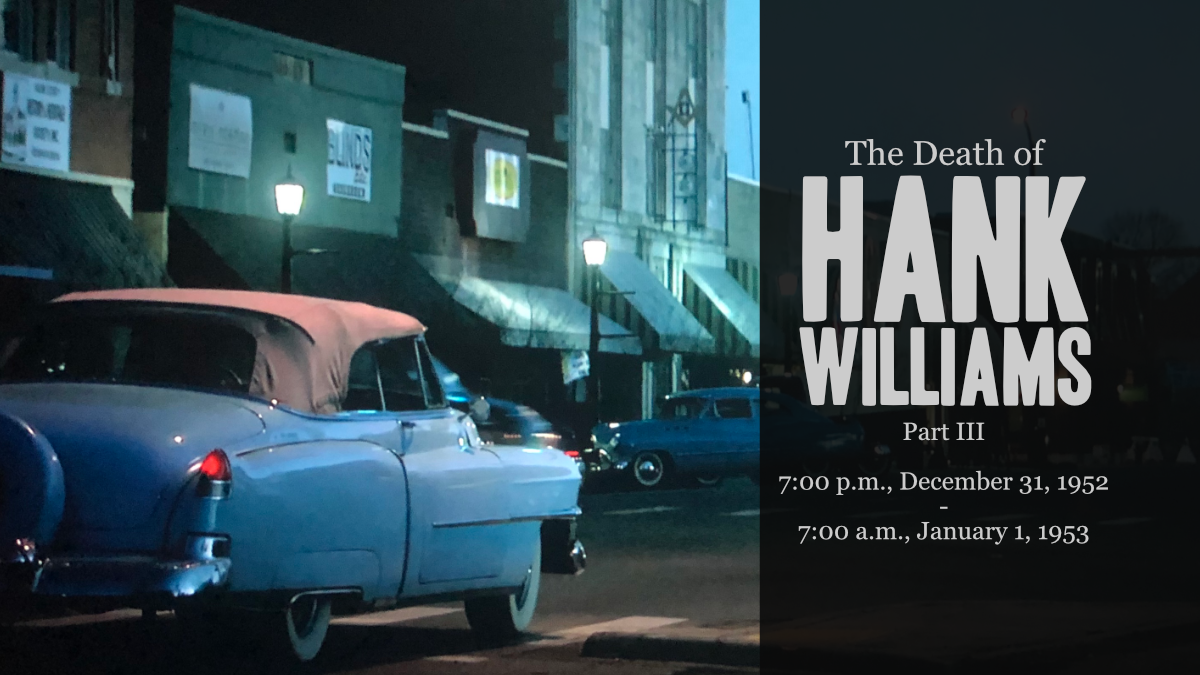 Charles Carr pulled the Cadillac up to the front of the Andrew Johnson Hotel in Knoxville, Tennessee at 7:00 p.m. He went inside and booked a room for the night for himself and Hank Williams. Carr told the bell captain that he was going to need some special assistance because he had a sick man in his car who would need help getting up to their room. Two porters were sent to assist Hank, who had been drinking off and on since they left Fort Payne earlier that day. They carried him up to the room, later stating that he was obviously intoxicated. One of them, a man named Emmanuel Martin, recalled that at that time Hank was very much alive. "I talked to him coming in, and I remember he made one little statement, 'When you drink like this, this is the price you gotta pay.'" 
The porters laid Hank on the bed. Carr gave them a nice tip and asked them to park the car and take care of the luggage. He then called room service and ordered two steak dinners. By the time their dinner arrived the porters were bringing their luggage into the room. Hank had developed a case of hiccups that seemed to be sending his body into mild convulsions. He only took a few bites of his steak before passing out, finally rolling off of the bed and falling onto the floor.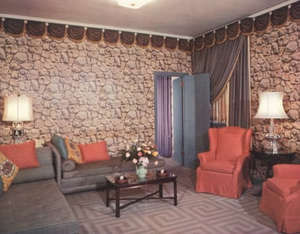 A room inside the Andrew Johnson Hotel ca. 1950's
With his concern for Hanks health growing, Carr placed a call to Hanks mother in Montgomery. He explained the situation and asked her what he should do. She got in touch with Hank's doctor, Toby Marshall, who called Carr at the hotel and instructed him to have the front desk summon a doctor. 
In a short time, Dr. Paul H. Cardwell, a middle aged Knoxville physician, arrived at their room. He noticed some capsules on the nightstand next to Hanks bed, but didn't ask any question. Apparently acting on Marshall's instructions, Cardwell administered one hypodermic and then another. One of vitamin B12 and another of B6, each containing one-quarter grain of Morphine. Cardwell stayed in the room for only a few minutes, he declared Hank fit for travel and went on his way. He would later tell investigators that Hank was very drunk and also told them about the capsules on the nightstand, but didn't know what they were or how many Hank may have taken. 
At some point during the night, Charles Carr got on the phone with promoter A.V. Bamford to let him know what had happened and why they did not make it to the show in Charleston. Bamford told Carr to depart Knoxville immediately for Canton, Ohio to make sure they made it in time for the matinee New Years Day show at 2:00 p.m. Hanks contract carried a $1,000 default penalty, meaning that he would have to pay that amount of money for every show he missed. More than four thousand tickets had been sold for the show in Canton at $2.50 each. Bamford knew that if Hank failed to show, or showed up drunk, he would have a lawsuit on his hands from the local promoter, LCL Productions. 
Around 10:30 p.m., Carr called down to the front desk and asked that the porters come up to the room to help get Hank and their luggage back down to the Cadillac. They returned to the room and picked up Hank, one holding him under his arms and the other holding his legs. They said later that Hank felt limber and that he didn't move. It was difficult for all four men to fit into the elevator and the porters found it necessary to bend Hank's body at the waist. While holding Hank in this position as they traveled downward in the elevator, according to the porters later testimony, Hank made a "gurgling sound" as well as a "wheezing or coughing like sound" twice, but that he never spoke or moved on his own as they carried him out. 
Hank was laid in the back seat of his car with his hands draped over his body in a "V" shaped position as one would be laid in a casket. The porters covered him with a blanket and the navy blue overcoat he had been wearing that day. Charles Carr headed out of Knoxville close to 11:00 p.m. headed northeast on Highway 11. As Midnight approached, the cold was starting to set in. It was 39 degrees when they left and as they ventured further into the lower regions of Appalachia the possibility of snow and icy road conditions would only be another problem to deal with on a journey that was quickly turning into a nightmare for the 18 year old behind the wheel. 
Midnight 
Just twenty miles outside of Knoxville, Carr was passing through Blaine, Tennessee when he attempted to go around a bus on the narrow two lane highway. When he crossed over into the oncoming lane, he almost hit a police cruiser head on as he was passing the bus. The squad car narrowly avoided the Cadillac. In the rear view mirror, Charles saw the squad cars lights turn on as it made a u-turn in the middle of the road. He pulled the Cadillac over as the squad car caught up and rolled to a stop behind him.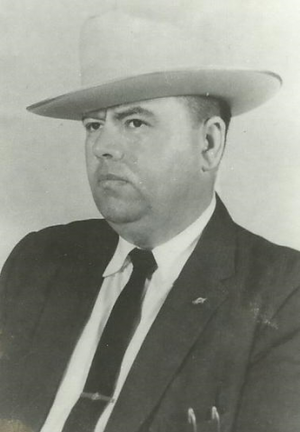 Corporal Swan H. Kitts
Corporal Swan H. Kitts stepped out of the police cruiser and approached the Cadillac along the drivers side of the car, shining his flashlight into window where he made out someone lying down in the backseat who was sort of leaned up on the passenger side of the car. Kitts would later testify that what he saw a "lifeless-looking man, pale and blue looking with his collar and hat covering most his face, slumped across the backseat, seemingly asleep." 
He asked Carr if there was anything wrong with his passenger. Carr replied "No, he's been drinking and the doctor gave him a sedative to make him sleep." Carr seemed unconcerned, as if it were an everyday situation. Kitts wasn't so sure. "He looks like he might be dead," Kitts said to Carr. Carr assured Kitts that he wasn't but Kitts still had his doubts. Carr explained to the officer who his passenger was and that he was driving him to an engagement in Ohio and could not afford to be late. Kitts decided not to disturb Hank but had Carr follow him into nearby Rutledge, Tennessee, 15 miles up Highway 11. 
Carr followed behind Kitts as he pulled into the driveway of a private residence in Rutledge. It was the home of the local Justice of the Peace, Olin H. Marshall. There, Charles was written a ticket for reckless driving and tried before Marshall. Also present for this "trial" was Sheriff J.N. Antrican, who would later testify to the events that took place there that night. 
Marshall asked Carr how much money he had on him, Carr told him $75.00 and strangely enough that is what the fine for reckless driving turned out to be. Carr paid the fine and briefly explained the events of that day and evening to the officers. Kitts mentioned the passenger laying in the backseat of the car and Charles again requested that Hank not be disturbed. While Kitts, Antrican and Marshall would all testify that Carr seemed nervous, none of them pressed the matter of the passengers any further. 
The new year had arrived somewhere in the midst of this bizarre interlude. It was now close to 1:00 a.m. as Charles got back behind the wheel of the Cadillac and continued northeast on Highway 11. 
3:00 a.m. 
Approximately two hours later, the Cadillac rolled into Bristol on the Tennessee - Virginia border. At this point, Charles was exhausted. He had been awake and mostly behind the wheel of the car since they left Birmingham at 7:00 a.m. that morning. He pulled into a gas station and asked the attendant where he might find a relief driver. The attendant directed Carr to a nearby 24 hour diner and hang out for off-duty cab drivers called the Doughboy Cafe located at 639 State Street. It was there that Charles would later claim he spoke to Hank for the last time. Once they parked, Charles claimed that Hank got out of the car to stretch. He then asked Hank if he wanted something to eat to which he replied with what are believed to be his last words, "No, I just want to get some sleep." While this is possible, it seems entirely inconsistent with Hank's condition just a two hours earlier. 

Former location of the Doughboy Cafe at 639 State St. Bristol, VA
(There is contradicting information as to which diner Charles actually stopped at. The Doughboy Diner seems to have went out of business in the mid-1950s and was located where the tents are set up in this photo. The Burger Bar seen across the street has long claimed it was their establishment that Charles stopped at that night.)
Physically and mentally exhausted, Carr entered the diner and found a cab driver who had just finished his shift, a 37 year old man by the name of Donald Surface. He agreed to drive them the rest of the way in exchange for an undisclosed amount of money and bus fair back home. Carr agreed to the deal and the two set out for the 9 hour drive to Canton, Ohio still some 430 miles away. Out of Bristol, they picked up Highway 19 which would carry them through the Clinch Mountain region of southern Virginia. 
5:00 a.m. 
As Carr sat in the passenger seat trying to get some rest, he found himself unable to do so with a stranger driving. Surface had been behind the wheel for only 100 miles or so when Carr claims they stopped in either Bluefield or Princeton, West Virginia and it was there that he paid Surface what he owed him and dropped him off. Surface died just twelve years later in April of 1965 without ever being interviewed about his role in the events on that night, so his side of the story was never told. In spite of Carr's later claims to the contrary, newspaper and police reports place him at the wheel as the car neared Oak Hill, West Virginia in the hours before the dawn of January 1, 1953. 
6:30 a.m.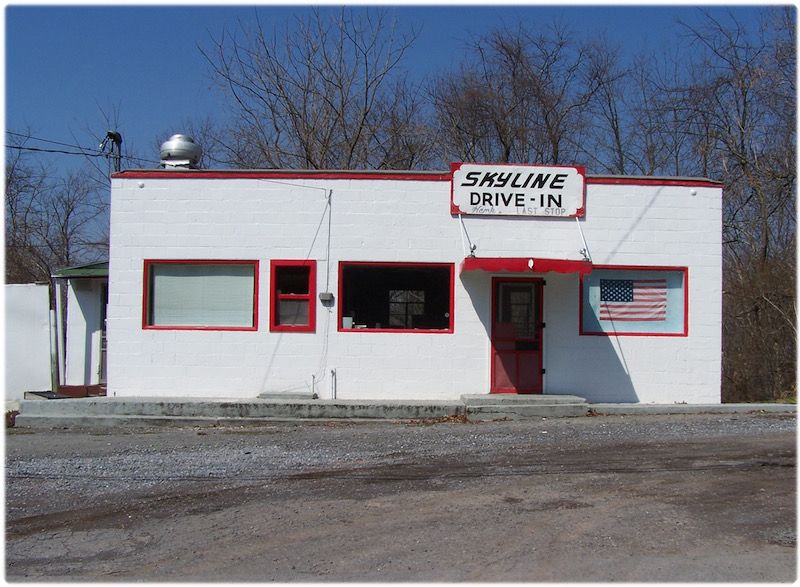 Skyline Drive-In "Hank's Last Stop"
Regardless of who was driving, the Cadillac pulled into the parking lot of the Skyline Drive-In, a simple, cinder block restaurant on the roadside of Highway 16 in Hilltop, West Virginia. Carr looked into the backseat to check on Hank. He was lying in the back seat with his hands draped across his chest just the way the porters at the Andrew Johnson Hotel had laid him almost eight hours earlier. The navy blue overcoat they had laid over his body had fallen off at some point. When Charles reached back to pull it over Hank's body his hand inadvertently touched Hank's. It was cold and offered "unnatural resistance" as Carr would later put it. He attempted to wake Hank, but got no response. 
He ran inside the restaurant, where he later said he vividly remembered seeing a potbellied stove in the corner, asking if someone could come outside and help. A man in his mid-50's walked out with Charles, took a look into the backseat, and upon seeing Hank said, "I think you've got a problem." The man advised Carr that there was a hospital was a couple of miles up the road. Carr got back in the Cadillac and headed north. 
Driving just two miles, they came into in the small town of Oak Hill, West Virginia. The first thing they saw was Burdette's Pure Oil 24-Hour Service Station on the left. The car came to a stop across the street from the station and Carr ran inside, explained the situation and asked for directions to the hospital.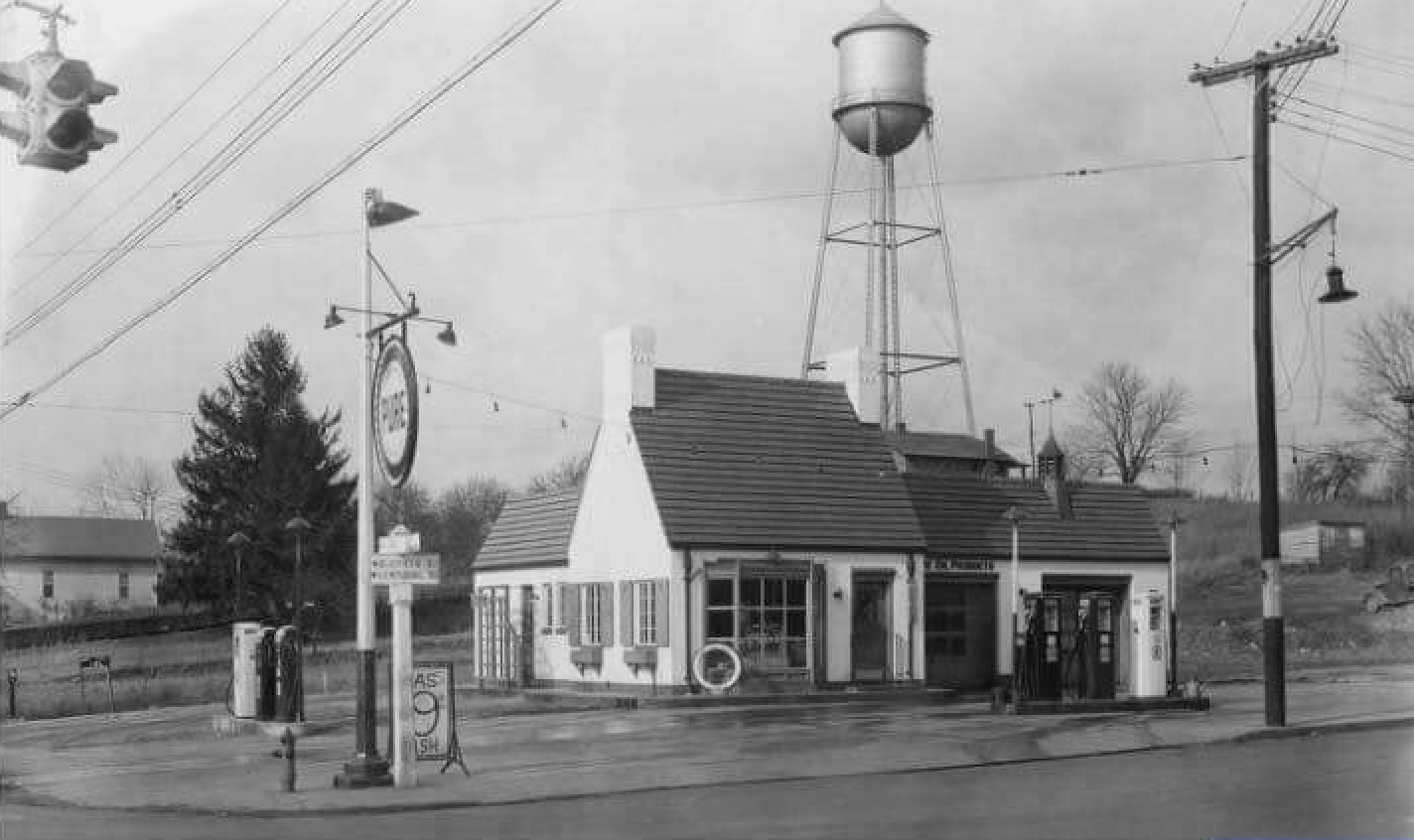 Burdette's Pur Oil Station as it appeared in the 1950's
Fearing the fact that someone was dead, the service station attendant called the police and within a few minutes, officer Howard Janney arrived on the scene. He was directed to the Cadillac across the street where he opened the door and took a look at Hank lying in the backseat, confirming that he was in fact dead. Janney later told researcher Brian Turpen that Hank was still lukewarm to the touch, but that rigor mortis had started to set in on his arms. He ordered Carr to follow him over to the hospital just one block away. 
7:00 a.m.
They Cadillac pulled up to the back of the hospital, which served as the emergency entrance, where two interns came out to the car. They opened the doors, leaned inside, and confirmed that Hank Williams was indeed dead. Carr, no doubt in a state of shock, asked if there was anything they could do for him, to which one of the interns flatly replied, "No, he's just dead." 
The interns removed Hanks body from the back of the Cadillac, placed him on a stretcher and wheeled his body inside the hospital. He was pronounced "Dead on Arrival" at 7:00 AM January 1, 1953 by Dr. Diego Nunnari who concluded from the state of rigor mortis and the temperature of the body, that Hanks death could have possibly occurred two to four hours earlier but stated he was unable to determine an exact time of death.
---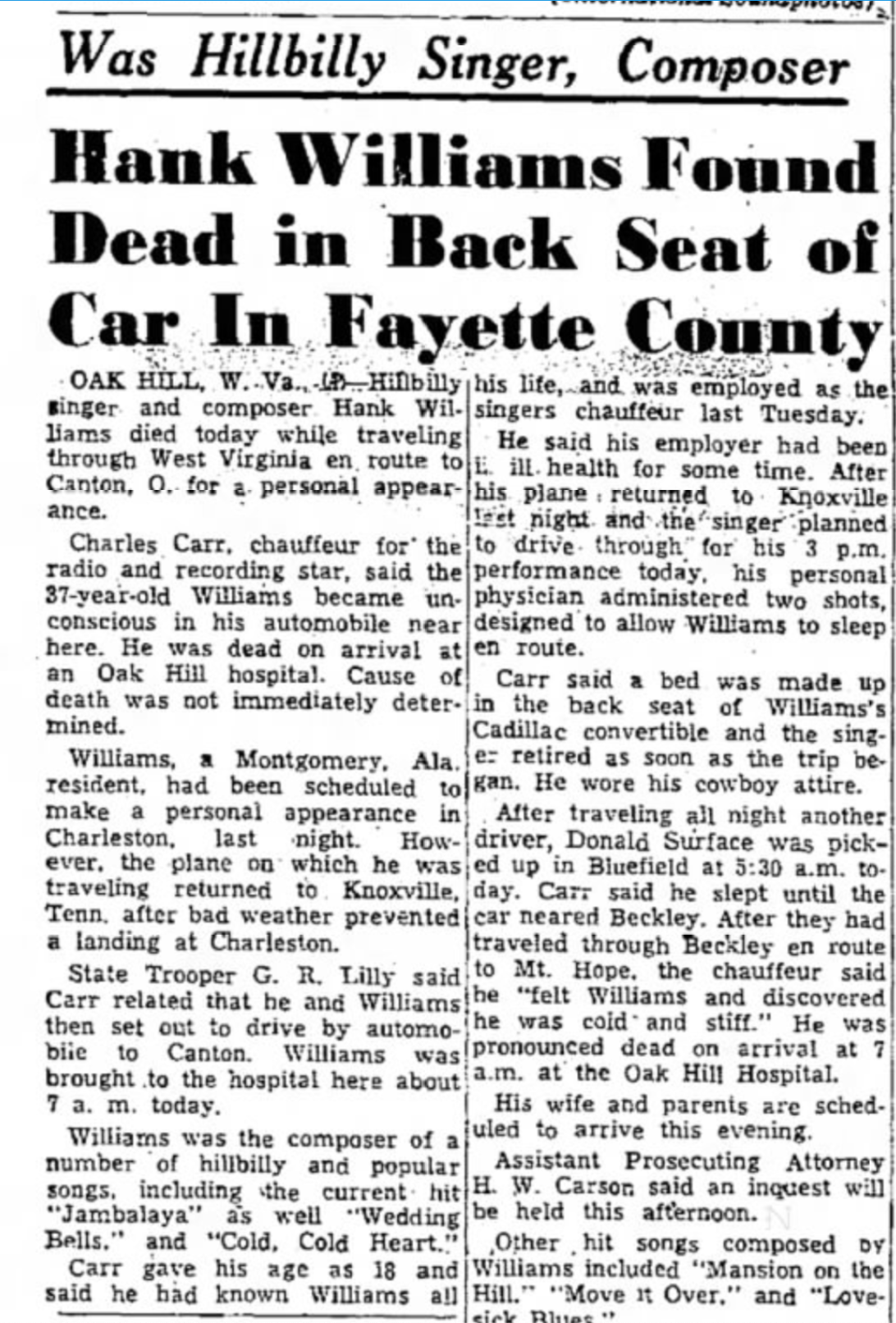 One of the first published accounts of Hank Williams' death that ran in the January 1, 1953 edition of The Raleigh Register in Beckley, WV. This account contradicts others as to the time and where Carr picked up and dropped off Donald Surface.
---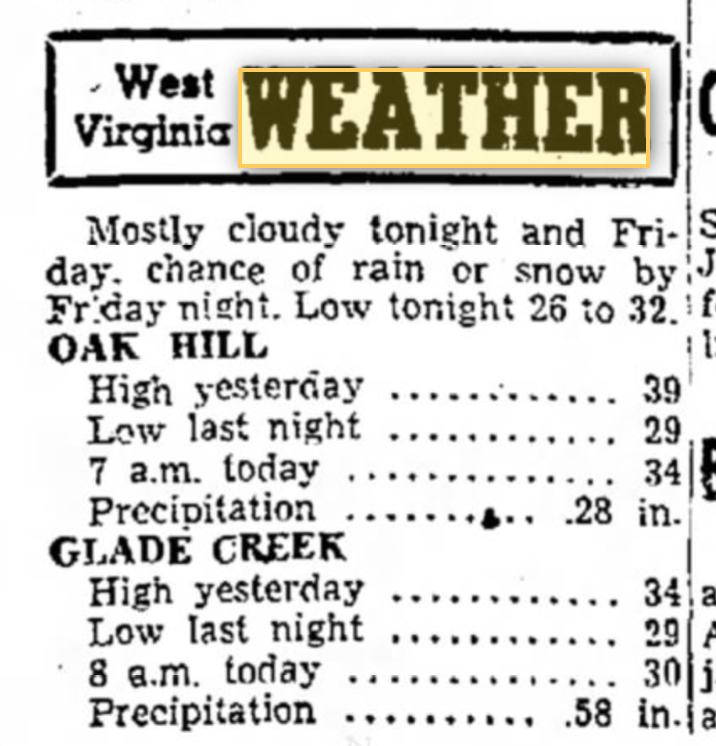 The weather report for Oak Hill, WV on January 1, 1953. Notice the temperatures showed a high of 39 and a low of 29 for the previous day and overnight with the temperature being recorded at 34 degrees at 7:00 a.m., the time Hank was declared dead. With a recorded precipitation of only 0.28 inches it hardly sounds like the blizzard or snowstorm that covered the southeast at that time of Hank's death ever occurred.