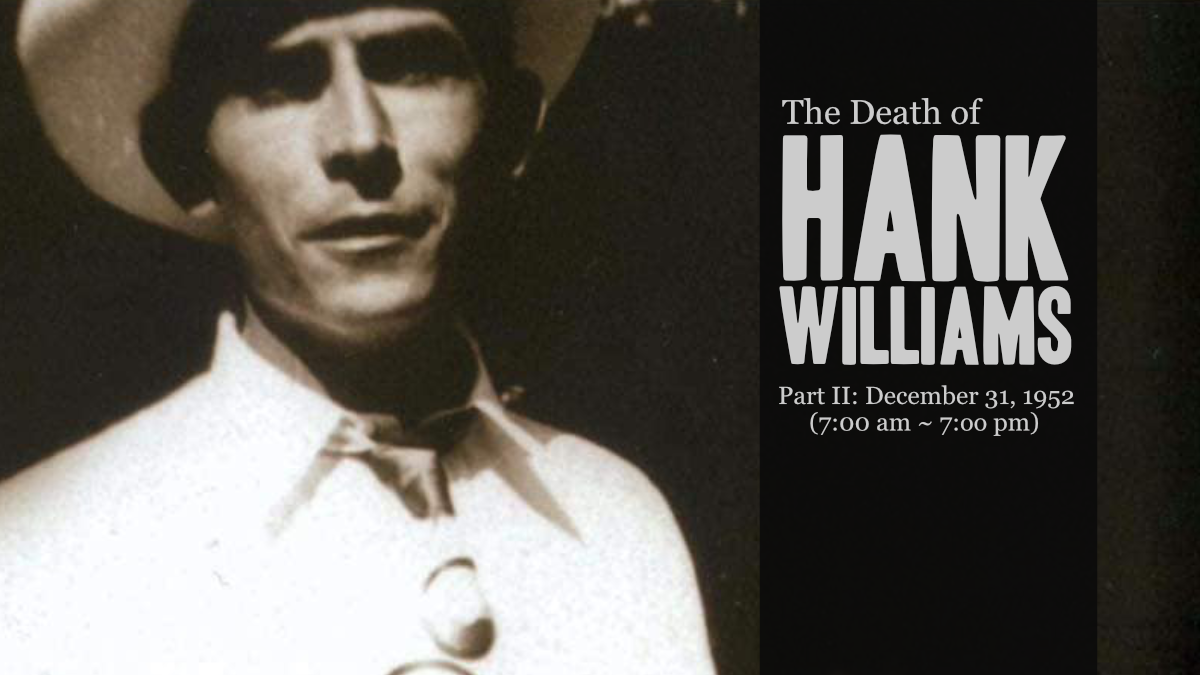 December 31, 1952: Hank Williams and Charles Carr checked out of the Redmont Hotel in Birmingham, Alabama and started their journey north towards Charleston, West Virginia around 7:00 a.m. There were 550 miles between them and their destination, a 12 hour trip by car, where Hank was expected for a Grand Ole Opry New Year's Eve show at 7:00 p.m. If they drove straight through without encountering any problems or delays, they would arrive with a little time to spare before Hank was expected to take the stage. Determined to beat the odds, Charles navigated the Cadillac out of Birmingham and onto Highway 11 North towards Chattanooga, Tennessee. 
Charles recalled Hank being in good spirits as they traveled that morning, sitting in the passenger seat, talking and singing along with the radio. At one point, "Jambalaya" was played prompting Hank to ask Charles what he thought about the song. Carr said he didn't much care for it because it seemed a little nonsensical to him. Hank laughed and said, "You son of a bitch, you just don't understand the French like I do!" Carr told Hank that he had actually studied French in school. Hank scoffed at Charles' reply with a dismissive "Awwww" and just continued singing. The last song that Carr remembers Hank singing along with that day was Red Foley's "Midnight" which was rapidly climbing the charts. When it finished playing, Hank said to himself, "Red would like that." 
An hour and a half later, around 8:30 a.m., the car rolled into the city of Fort Payne, Alabama. Hank and Charles stopped for a light breakfast and coffee at The American Cafe. Hank decided to get a shave and haircut at Carters Barber Shop (located at 111 Gault Ave.) about a block away. He decided to walk to the barbershop while Carr moved the Cadillac from the Cafe and parked it in front of the barber shop. There, Hank received a shave and a trim from a man named Howard Simpson. Although Simpson was never one to brag, according to his twin sons, he politely discussed cutting Williams' hair whenever someone broached the subject of Simpson's brush with fame. "Sometimes we'd hear people talking about it in the shop," says Gary Simpson. "Daddy said that Hank was really nice – calm and collected. Mainly he was real nice. He got his hair cut and then left." After getting a shave and a trim from Simpson, he had his boots shined by a man named Abe Coleman.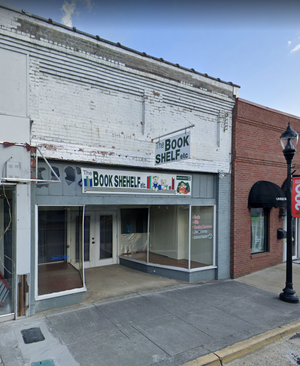 209 Gault Ave. North (former location of the American Café)
While it was still early in the day, Hank decided to go ahead and get a bottle for the long ride ahead of him. Fort Payne was in a dry county so Hank managed to arrange to buy a bottle from a local, well known bootlegger who famously lived in a stone house on Jennings Road. They picked up a pint of bonded bourbon at the nearby Robertson and Lankford Cab Company taxi stand located at 315 Gault Ave. Whether someone from the taxi company went and retrieved the bottle for Hank or if it was delivered to the cab stand is unclear. The local legend claims that a cab driver took Hank up on Lookout Mountain to buy the bottle directly from the bootlegger, but Charles Carr insisted that Hank never left with anyone, but either way, he got his alcohol. After spending approximately one hour in Fort Payne, the two headed north again on Highway 11 around 9:30 a.m.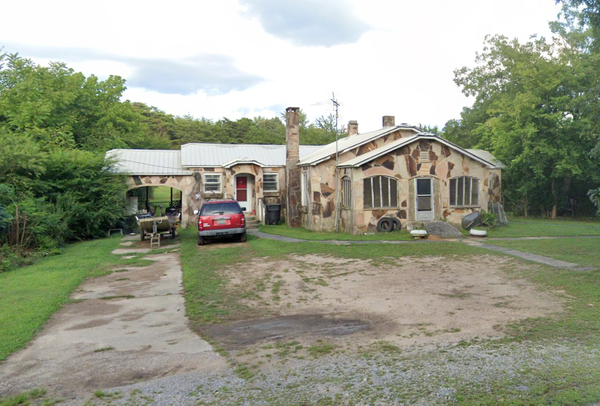 Home of the famous Fort Payne bootlegger
With 55 or so more miles behind them, the Cadillac rolled into Chattanooga, Tennessee around 11:30 a.m., losing an hour when they crossed through northwest Georgia and entered into the eastern time zone. Their time in Chattanooga was brief as they only stopped for quick lunch at a diner where Hank dialed up Tony Bennett's version of "Cold, Cold Heart" on the jukebox. As they were leaving, Hank walked up to their waiter and said, "Here's the biggest tip you ever got" and gave him a $50 bill. That's is equivalent to almost $500 in 2020. 
By this time, Hank had to have realized that he was not going to make it to Charleston by showtime. There was still nearly 300 miles to go which would easily take them six hours in the car putting him in Charleston around 9:00 p.m. at the earliest if everything worked in their favor for the remainder of the drive. It was around 2:30 p.m. when they arrived in Knoxville and Hank made the decision to find a flight that could get him to the show on time.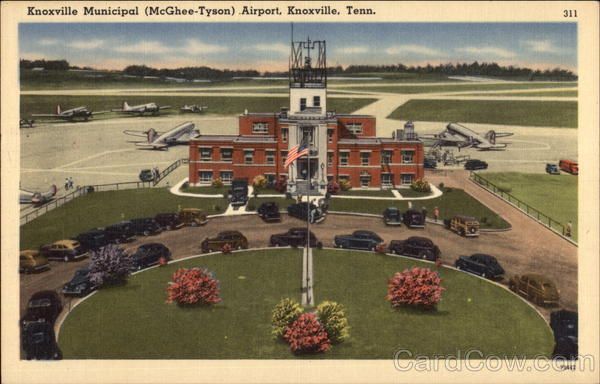 Tyson-McGhee Airport  (Knoxville, Tennessee)
They proceeded to Tyson-McGhee airport where they found a flight leaving for Charleston at 3:30 p.m. Hank bought two tickets for the three hour flight that would put them on the ground in Charleston around 6:30 p.m., giving them plenty of time before the show began. Seeing as he now had a little time to kill in Knoxville, Hank put in a call to Cas Walker, a popular businessman and disc jockey in the area who hosted the "Dinner Bell" program on station WROL. Hank told him that he was in town and wanted to stop by and "do a number" however, he apparently changed his mind at some point as Walker stated he never showed up at the station. 
Hank and Charles boarded the flight at 3:30 p.m. They were in the air for about 90 minutes, half way to their destination, when the flight was turned around due to fog. The plane returned to Knoxville and landed back on the runway shortly before 6:00 p.m. Night had fallen as they loaded Hank's guitar and luggage from the plane into the trunk of the Cadillac. With the Charleston show was a bust, they drove into town to get a room for the night. It was 7:00 pm. when they pulled up in front of Knoxville's finest hotel, the Andrew Johnson Hotel.