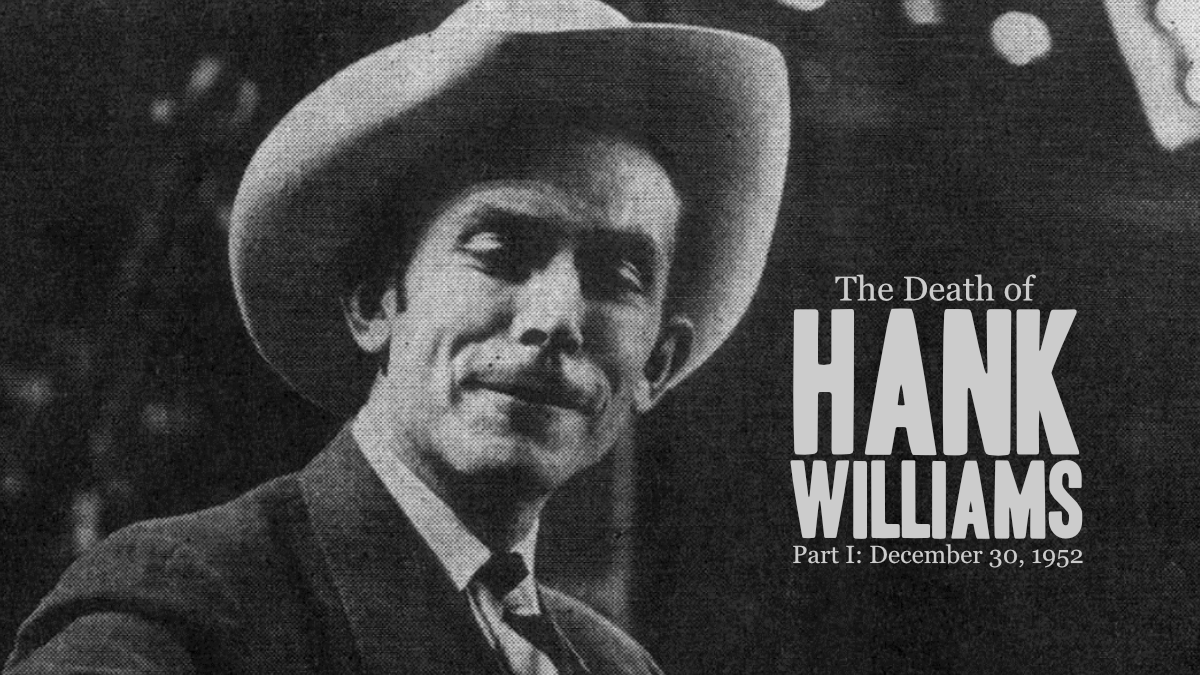 During the first few weeks of December, 1952, promoter A.V. Bamford managed to get Hank Williams booked on two shows that would be his first north of the Mason-Dixon Line since his departure from the Grand Ole Opry in August of that year. The first engagement was an Opry New Year's Eve show in Charleston, West Virginia and the second was a double-header in Canton, Ohio on New Year's Day. These shows were intended to be the first steps in a major comeback for Hank. It also provides more evidence that the Opry was still working with Hank to help get him back on the show as a regular member at some point in the future and that his release from the program was indeed more of a temporary solution to the turmoil he had been going through in his personal life for the majority of 1952.
The Souvenir Program for the Grand Ole Opry New Year's Eve Show in Charleston, WV
     In no condition to make such a long drive on his own, Hank set out to find a chauffeur. He had been hiring various people to drive him over the past several months, primarily back and forth from Montgomery to Shreveport. His first call was to Braxton Schuffert but he was unable to miss work with his day job at Hormel Meats. He then called Charlie Boling, one of the earliest members of the Drifting Cowboys who worked at a local cab company, but he was also unable to take the gig due to a day job. 
Hank then headed over to the Hollywood Drive-In & Restaurant in search of someone to make the trip with him. As he pulled into the parking lot, he spotted a Cadillac sedan that belonged to his friend Leo Hudson. Leo was the saxophone player and had just spent the evening with at the Musicians Union benefit at the Elite a few days earlier. 
     Hank walked over, said hello and slid into the back seat of Leo's car. He ordered a beer and told Leo that he had two shows coming up and offered him $250 to make the trip, but he wasn't able to as he was already committed to playing a New Years Eve gig with a local band. Leo claimed Hank drank five or six beers while sitting in the back of his car trying to talk him into accepting the job over the course of an hour. After being unable to persuade Leo, Hank ordered two six packs of Falstaff beer for the road and got back into his own Cadillac and left. 
     Running out of options and time working against him, Hank finally called the Lee Street Taxi Company and spoke with the owner, Dan Carr, who had helped him locate drivers in the past. He recommended his son, Charles, an 18 year old freshman attending Auburn University who was in town working for his fathers cab company during Christmas break. Carr had driven Hank before, and reportedly drove a little too fast for Hanks liking, but with seemingly no other options available, Hank hired him for the sum of $400. 
Hank's Mother's Boarding House

(324 N. McDonough St. Montgomery, AL)

A young Charles Carr
     Carr arrived at the McDonough street boarding house around 11:30 a.m. He helped Hank in loading the blue Cadillac with Hanks guitars, stage suits, records, photos, song books and other things he would need for the four day trip and two scheduled appearances. All the while, Billie Jean continued trying to convince Hank to let her come along, but Hank insisted that she go home to Louisiana and spend New Years with her parents in Bossier City. 
     According to Carr, Hank was wearing dark blue serge pants, a white dress shirt, a navy blue overcoat, white cowboy hat and a pair of blue suede shoes when they left the boarding house. Just as they were about to pull away, Hank stopped him, got out of the car and went back inside the house. 
     Hank walked in his bedroom where Billie Jean was putting her makeup on. He came up behind her and kissed her on the cheek. Billie Jean watched in the mirror as he sat down on the edge of the bed, changing out the blue suede shoes for a pair of white cowboy boots. Billie Jean would later recall; "He just looked at me, not saying a word. I stood in front of the mirror, my back to him, and to me he looked like he was already dead. I asked him if something was bothering him and he said, 'No, baby, Ol' Hank just wanted to look at you one more time." Hank then said goodbye and he left. 
     It was around noon when Charles Carr pulled away from the boarding house. Hank had a few stops he wanted to make before they got on the road. The first was at one of the local radio stations (Probably WSFA) for reasons we do not know. Someone Hank encountered that day, either Leo or someone at the radio station, told him about a highway contractor's convention being held at a nearby hotel and told Hank he should stop by and make an appearance, which he did, and reportedly helped himself to a few drinks while there. 
     Hank then had Carr drive him to the offices of Dr. Stokes, the doctor who would be delivering the child he was expecting with Bobbie Jett. Hank paid him $40.00 in advance for the delivery of the child just in case it was born before he arrived back in Montgomery. He then asked Stokes for a shot of morphine to ease his back pain for the long ride ahead of them. Smelling alcohol on Hank's breath, Stokes declined. Hank then went to another doctor who administered the shot and sent him on his way. 
     At last, around 4:00 PM, the blue Cadillac pulled out of Montgomery and onto Highway 31 North headed towards Birmingham. Although the rear seat of Hank's Cadillac had been customized so that it could be folded back into the trunk and allow Hank to lie down on long trips, it was unable to be converted into such a position with all the cargo in the trunk. In spite of the back pain that he frequently experienced in long car rides, Charles Carr remembered Hank being in good spirits, talking and singing along with songs on the radio on their way to Birmingham, approximately 100 miles north of Montgomery. 
     Hank decided it would be best to spend the night in Birmingham and get back on the road in the morning. Hank wanted to get a room at the swanky Tutwiler Hotel, but while searching for it, Charles Carr was pulled over by police after making an illegal u-turn. The officer let them go without citing Carr for the violation and the two proceeded to check in at the Redmont Hotel. As they were checking in, three girls recognized Hank and he invited them up to his room. When he asked where they were from, one of the girls said, "Heaven" to which Hank reportedly replied, "Then you're the reason I'm going to hell."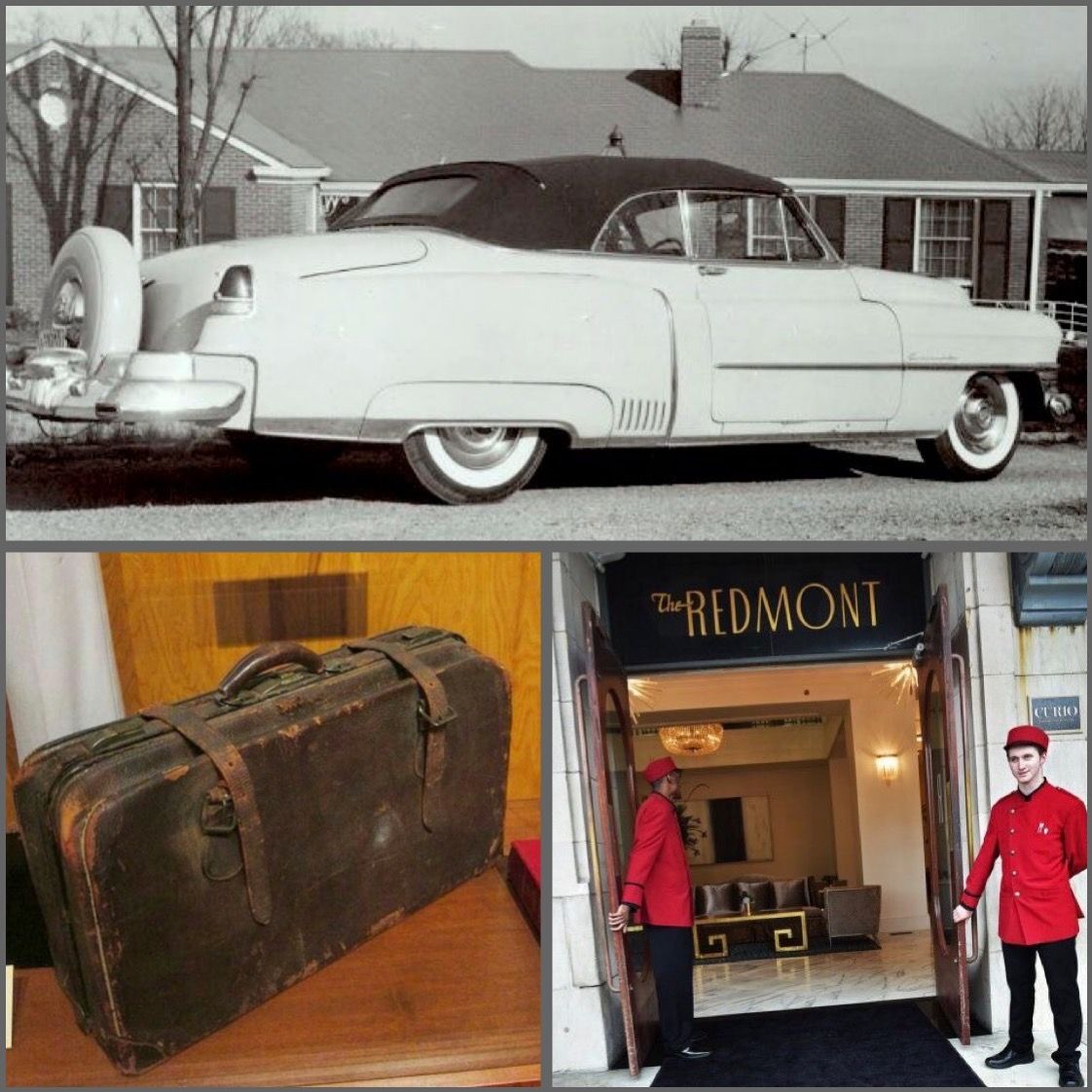 Hank's 1952 blue Cadillac as it appeared in the early 1950s with the convertible top up
One of the bags that was in the Cadillac during the trip / Doormen at the Redmont Hotel in Birmingham, AL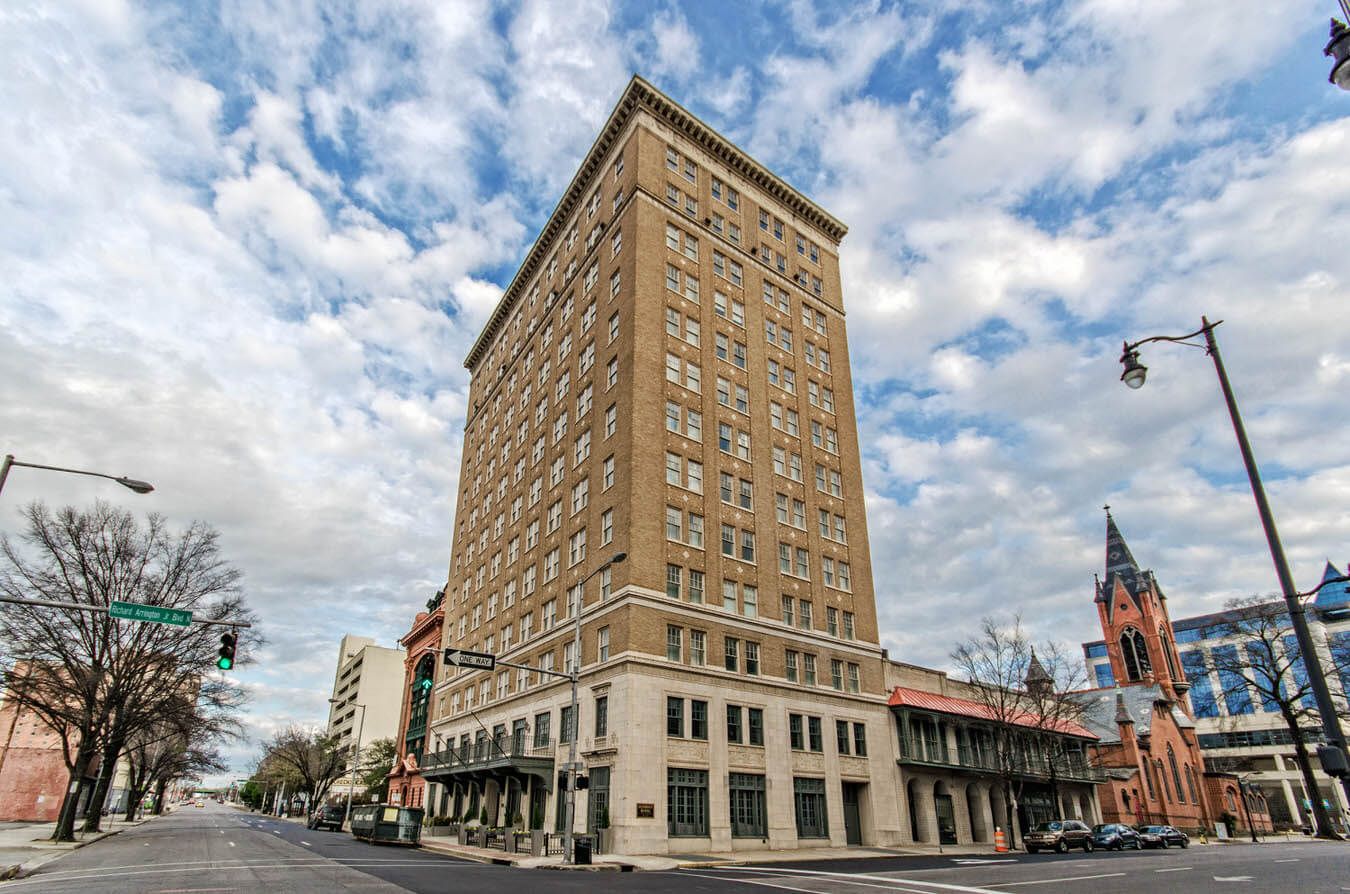 The Redmont Hotel (2101 5th Ave N., Birmingham, AL 35203)
2020 Update: As I was writing this part of Hank's story last year, I started to run across information regarding the weather when Hank left Montgomery for his final journey. For years it has been stated that there was a snowstorm blanketed the southeast during this time but after doing some research over the last year that appears to be untrue. 
Data from the Montgomery Regional Airport and newspaper articles from December 30th and 31st of 1952 make no mention of any inclement weather at the time. In fact, the weather was very typical for this time of year in the southeast. The high recorded on December 30th was 50 degrees and the low was 43 degrees with a recorded precipitation of 1.14 inches in the Montgomery Advertiser newspaper. This is backed up by data available from the airport records which recorded slightly higher temperatures and even less precipitation. 
So how this snow storm became part of the story we may never know, but the information available to us now indicates that there was no inclement weather in Alabama on December 30th or 31st of 1952. We have always been under the assumption that the weather was the reason he had to make the trip by car, but this new information certainly raises new questions as to the reasons he did not fly to these shows.