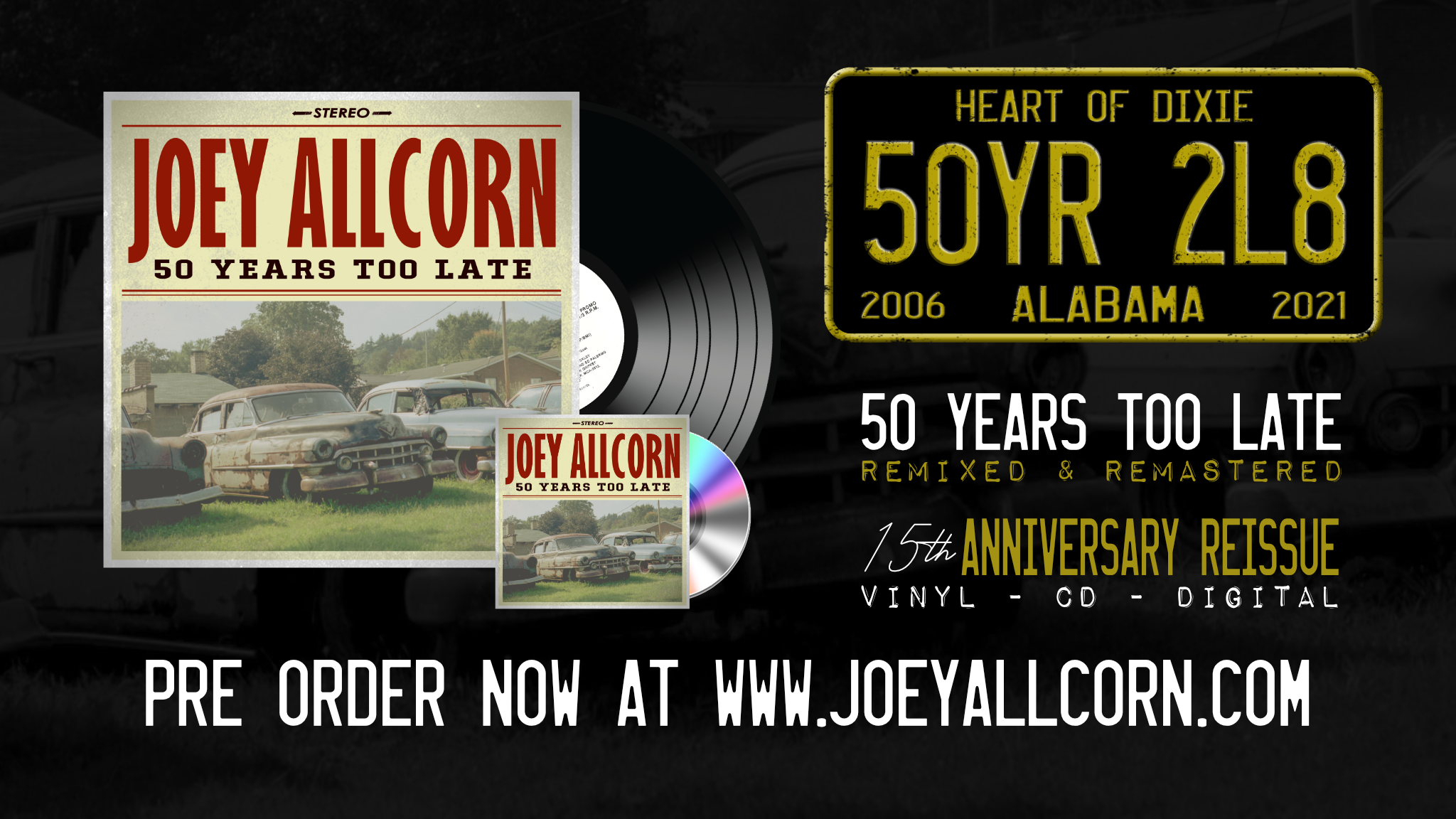 The "50 Years Too Late" Re-Issue Pre-Order is LIVE! Fans have asked for this album to be reissued for years and I'm happy to finally re-release it this year which is incidentally it's 15th anniversary. This release also marks the first time that any of my records have been issued on vinyl, something else that folks have been asking about for years and I reckon there's no better place to start with that than at the beginning! Over the past 15 years this album has introduced tens of thousands of people around the world to my interpretation of classic country music and to this day, it remains my most popular and most streamed record. 
This re-issued version of "50 Years Too Late" has been remastered for vinyl and digital formats which gives it a louder, cleaner sound than you might remember. We went in and cleaned up some tracks, re-recorded a few of the instrumental parts and remixed the majority of the songs which went a long way in making these songs sound the way I originally intended them to without taking anything away from the way you remember them, just making them sound better. As you can see, we did the same thing with the artwork! It also includes one track that was previously exclusive to Alabama Chain Gang Fan Club members, "Graveyard Bound (1927 Version)," and a previously unreleased track that didn't make it on the original release, "Cash 3:16," a sort of Johnny Cash Tribute/Gospel song.
How many of the vinyl get manufactured is totally dependent on how many pre-orders are placed. Since I no longer tour, I have no use to buy excess copies to keep in the closet for who knows how long, so if you want one of these, make sure you pre-order a copy! Whatever is left over will be available in the online store, but once they are gone, they're gone. I will not be pressing them up again any time soon! The pre-order will run for approximately one month and the records are expected to ship sometime between late July or sometime in August. It is difficult to put an exact date on them as the vinyl manufacturing process can take anywhere from 8-14 weeks depending on how busy they are, but I am planning to have these off to the press by the end of April so that is the best estimate I can provide on a release date right now.  
You can Pre-Order your copy Here: https://joeyallcorn.bigcartel.com/category/pre-orders
TRACK LIST: 
1.) 50 Years Too Late 
2.) I Just Don't Know 
3.) Here I Go Again 
4.) Son of a Ramblin' Man 
5.) Tired of Being Blue 
6.) Alabama Chain Gang 
7.) So Say Goodbye 
8.) Don't You Call on Me 
9.) Like I Never Will Again 
10.) This Ain't Montgomery 
11.) Cash 3:16 
12.) Graveyard Bound (1927 Version) 
13. The Execution