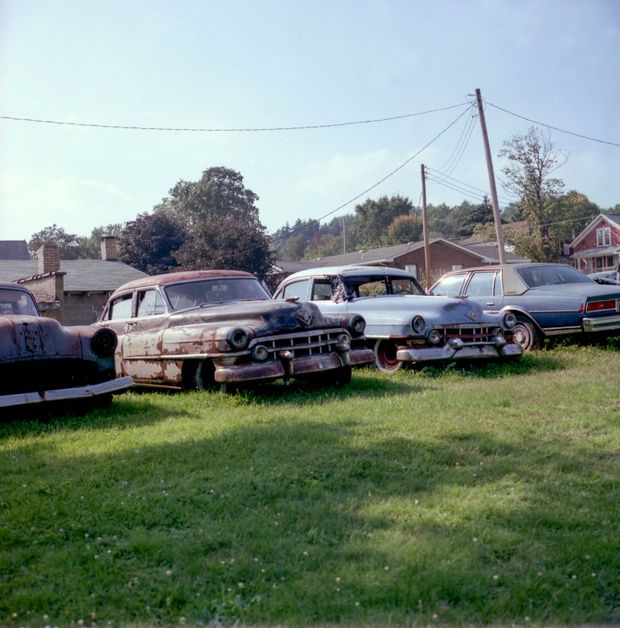 I'm sure most of you saw the post yesterday about releasing 50 Years Too Late on vinyl later this year. One thing we're going to have to do from the ground up is the artwork. The cover photo was shot by a man named Bob Christy who is a professor at Kent State University in Ohio. He is also a photographer and enjoys taking pictures of old broken down cars. 
     I discovered this photo on his blog that was entitled "Broken Down Heroes." He had tons of pictures of all sorts of cars and trucks that were abandoned and in various stages of decomposition. I knew I wanted to use some sort of Cadillac reference for the cover because of it's long running association with country music. Long before the pick up truck took its place in the late 70's and early 80's, the Cadillac was the "unofficial automobile of country music" for a long time. 
     Be that as it may, I didn't want a shiny, restored, nice looking Cadillac. I wanted one that was in terrible shape. I wanted a photo that captured the rust, the rot, the damage had been done with the passage of time because I've always thought that what happened to country music was very similar to what happened to these cars. At one time they were loved, respected and taken care of but the day came, for whatever reason, and their appeal was lost. They were broke down, neglected and left to rot in this field. 
     I feel like those of us that continue to make classic styles of country music are really no different than the people who buy these old cars and invest their time and money in restoring them so people today can appreciate the style and craftsmanship that went into the cars of old. Who doesn't smile when they see an immaculately restored car from the past driving down the road with them? It takes us back and gives us a brief, momentary connection to a time that has long since passed. 
     Anyway, I thought some of you might enjoy seeing this photo as it originally was and a little background on where the photo came from and my thoughts and reasons behind using it for the cover of my debut album, "50 Years Too Late." Hope you guys are looking forward to adding a copy of that record to your vinyl collection.