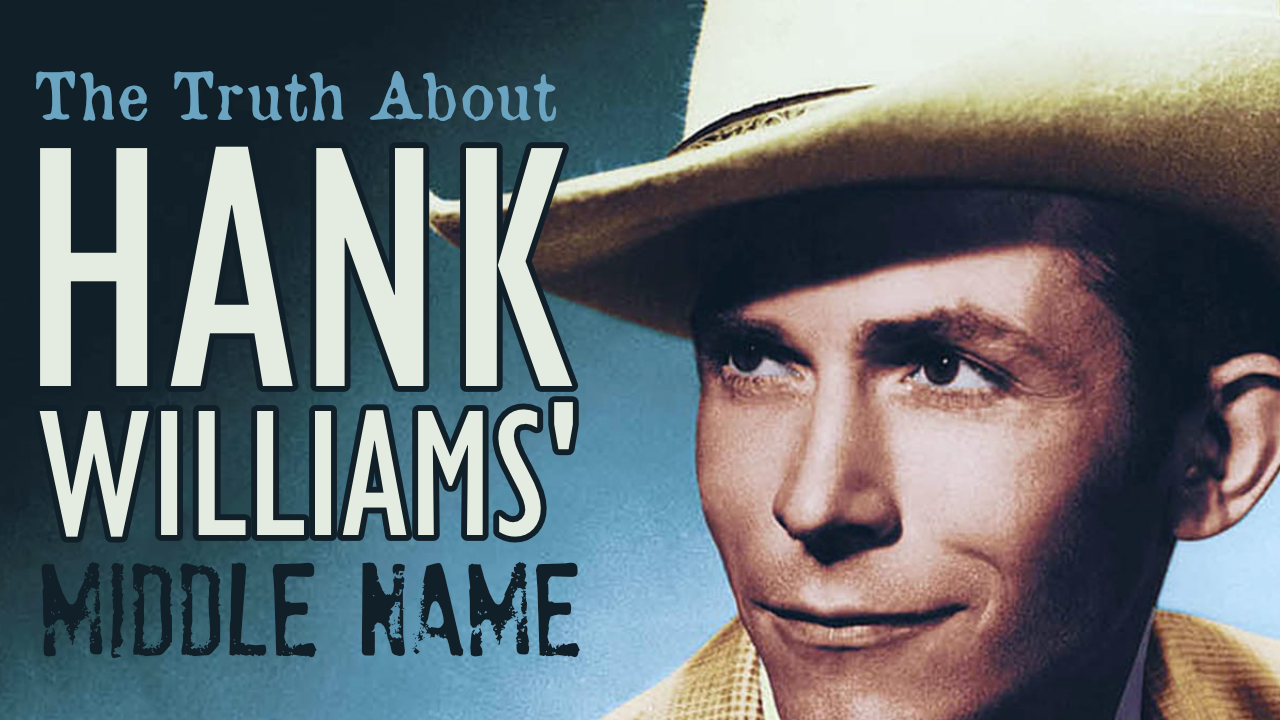 Thousands of people around the world will make posts on social media paying respects to one of the most celebrated figures in country music history and rightfully so. Nearly seventy years after his death, he remains one of the most recognizable faces and voices of popular American music of the 20th century. As our cultural icons like Hank pass from life to legend and into myth, the facts surrounding their lives do the same, and due to his unexpected death at such an early age, Hank Williams was among the first music superstars to make that journey. 
Of all the birthday wishes and remembrances you will see tomorrow, the vast majority of them will contain one of the most widely spread falsehoods about Hank Williams there is—that his middle name was King. In this document, I have compiled and presented overwhelming evidence that proves this is not true. It's a myth that has really taken off over the past 20 years or so with the advent of the internet. As with most things online, someone saw it, assumed it was true and ran with it. Now it is presented as historical fact in museums, Halls of Fame, encyclopedias, etc. and widely accepted as truth while there is zero evidence to support it and plenty to debunk it.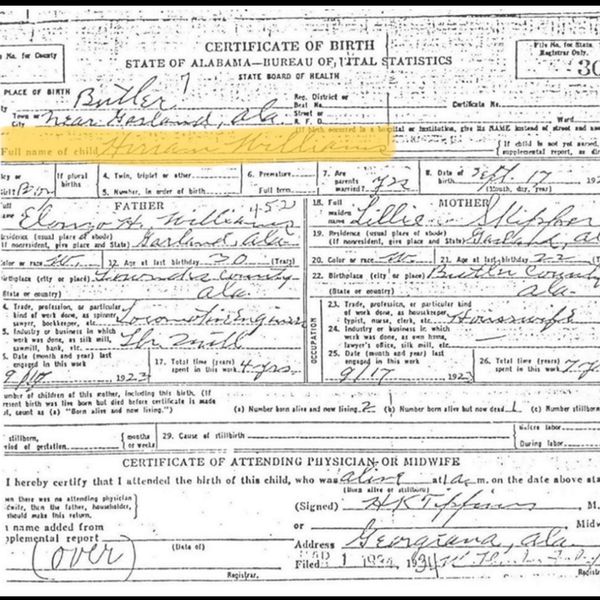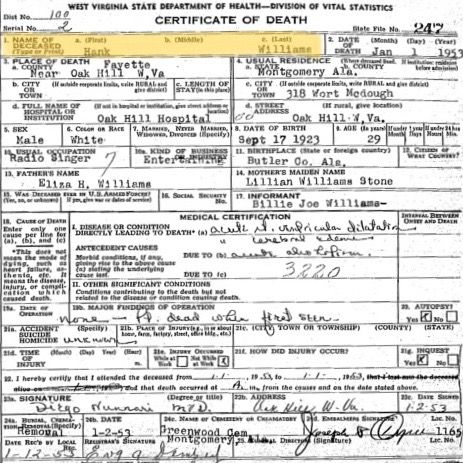 Being a world famous performer and songwriter, Hank Williams signed quite a few legal documents in his life; multiple record contracts, publishing contracts, performance contracts, marriage licenses, car titles, property deeds, etc. Not once did he ever use the name 'King' while filing or signing any of these documents. A perfect attendance certificate Hank received for the month of February in 1932 - when he attended third grade in Georgiana, Alabama - gives his name as 'Hiriam Williams' (spelled incorrectly as it was on his birth certificate) and makes no mention of 'King.' The name is not listed on said birth certificate nor is it given on his death certificate. The only document where Hank provided a middle name that I'm aware of was his 1942 draft registration card for the United States Army on which he printed and signed his full name as being "Hiram Hank Williams."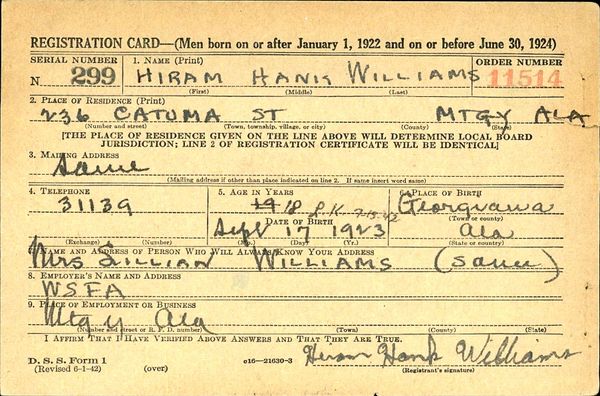 So how and where did all of this misinformation begin? As far as anyone can tell, it all stems from a misunderstanding that former Drifting Cowboys fiddle player Jerry Rivers had after a conversation with Hank's mother, Lillie. She explained to him and other members of Hank's band that she and Hank's father, Lon, named their son Hiram after King Hiram of Tyre from the Bible. She explained that he was a prominent figure in Freemasonry, of which Lon was a life-long practicing member, and that she herself was a member of the Eastern Star, a Masonic appendant body open to women. In his 1967 book "From Life to Legend", Jerry wrote the following, describing how he felt after playing the Grand Ole Opry for the first time with Hank in August of 1949: 
"As we rolled out of Nashville in Hank's long, blue Packard that night, I sat quietly in the back seat, knowing I had changed. In those few moments on the stage of the Grand Ole Opry, watching Hank perform, and watching the audience respond, I regained a humility I lost somewhere along the line. I believe all musicians and entertainers go through a stage, although they may be very much amateurs at the time, when they feel like they are the best and could improve very little. I knew then there are some things that some of us have and some of us don't have. At that time I knew Hank Williams was earning the title of his true christened name, King Hiram Williams."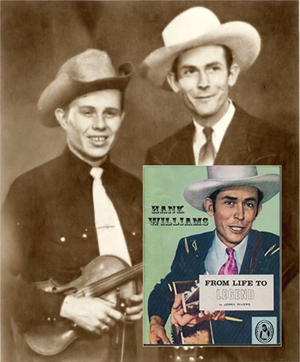 This is the earliest known documented account of the name "King" being associated with Hank Williams, and here it was given as his first, not middle name. Fellow Hank Williams historian and researcher Paul Nail asked Jerry Rivers about this in an interview conducted in August of 1995 and after pointing out that the name "King" never appeared on documents, legal or otherwise, from Hank's lifetime, Nail stated that Jerry was very open and apologetic, acknowledging that he had overstated the issue when he wrote that Hank's 'true christened name' was 'King Hiram Williams', confusing the title of the man for whom he was told Hank was named after with Hank's actual given name. 
While Jerry obviously accepted some of the responsibility for the confusion surrounding Hank's name, if we are to believe what Lillie told him and the rest of the band, she too was unclear on the exact origins of the name Hiram. Thankfully, we can find the truth in a letter written by Hank's father to the editor of the Wilcox-Progressive newspaper that was printed in their February 19, 1953 edition. He wrote:
"I am the real father of Hiram Williams, who was known for radio purposes as Hank Williams. When he was born on September 17, 1923, in Butler County, Alabama, in what is known as the Mount Olive West neighborhood i chose his name from the scripture, I Kings, 7th Chapter, 13th verse."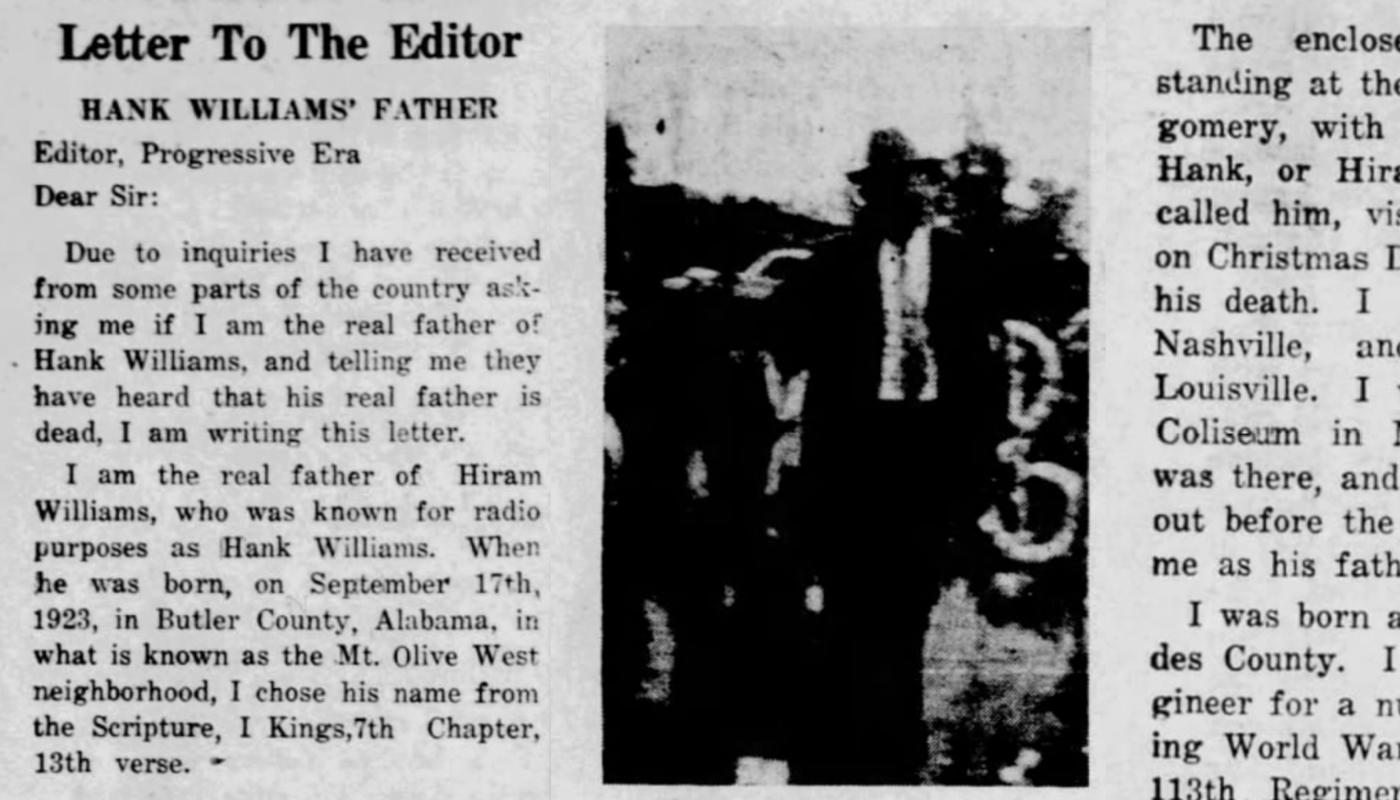 While it is widely claimed and accepted, even by Hank's mother, that he was named after King Hiram of Tyre, one only has to look up and read the scripture given by his father for themselves to discover that isn't the case: 
(13) And king Solomon sent and fetched Hiram out of Tyre. (14) He was a widow's son of the tribe of Naphtali, and his father was a man of Tyre, a worker in brass: and he was filled with wisdom, and understanding, and cunning to work all works in brass. And he came to king Solomon, and wrought all his work. 
If you know anything about how highly regarded a king is, it should go without saying that one king would not "fetch" another king to be brought to his kingdom to build a temple. The Hiram this section of scripture refers to as "Hiram out of Tyre" is not King Hiram, but a man named Hiram Abiff who was the chief architect of Solomon's Temple. As the temple was nearing completion, three fellow craft masons attacked him, demanding the secrets of a master mason. Hiram was challenged by each in turn, and at each refusal to divulge the information, each assailant struck him with his own tools and ultimately killed him. His murder is part of an allegory presented to all candidates during the third degree in Freemasonry. It is this Hiram that is a prominent figure in Freemasonry, not King Hiram of Tyre. 
I personally spoke to Lon's daughter and Hank's half sister Leila Griffin about all of this last year. She stated that her father always claimed that Hank was named after Hiram Abiff and had he been given a middle name, it would have been Abiff. Earlier this year I discovered an article printed in the December 24, 1967 issue of the Montgomery Advertiser newspaper where Lon Williams is quoted as giving Hank's name as "Hiram A. Williams" which further corroborates her statements and entirely debunks the "Hiram King Williams" name directly from his father.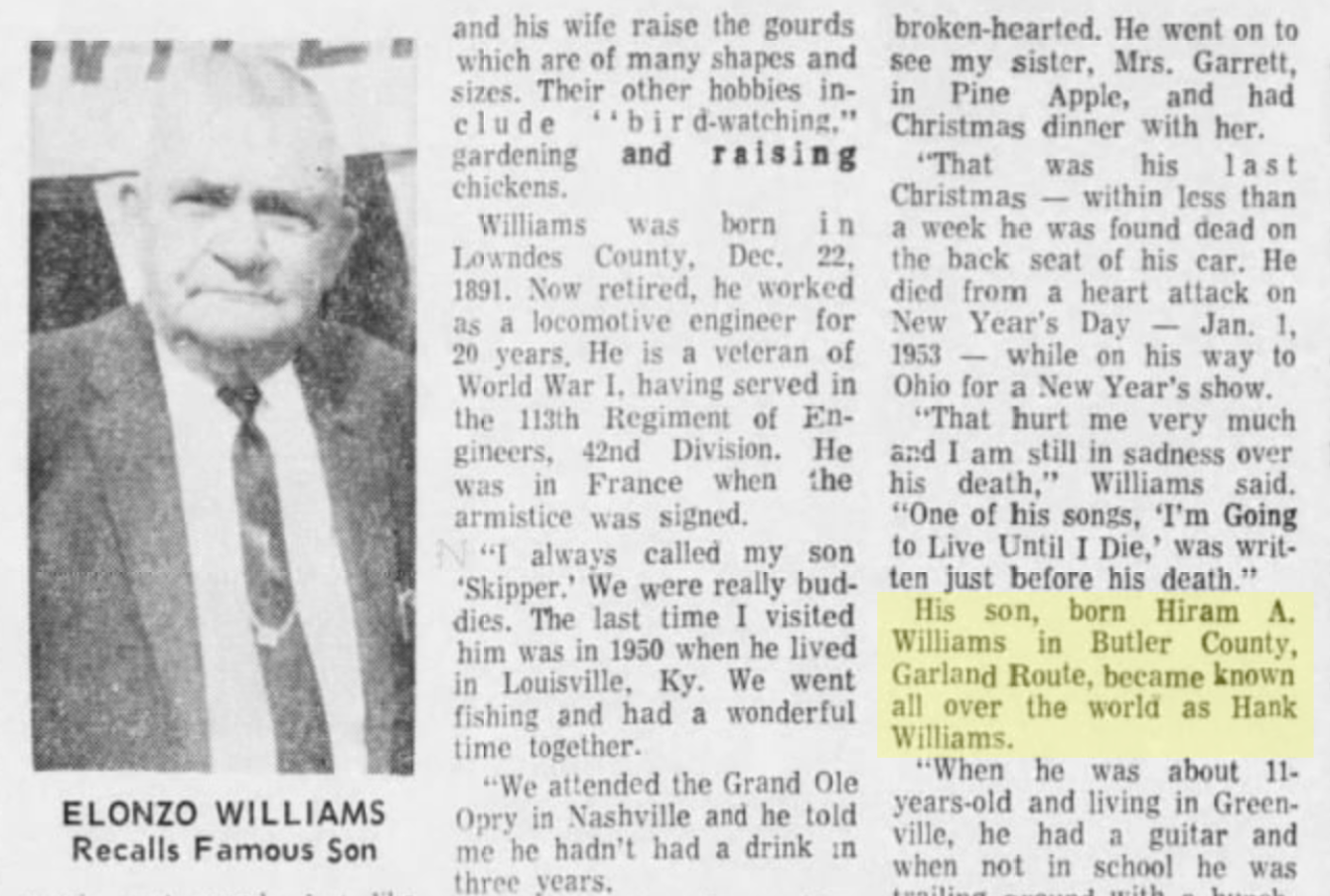 So the bottom line is this: Hank's official legal name was, is, and always has been 'Hiriam Williams' just as it was written on his birth certificate. Had it been 'Hiram King Williams' or any variation of that, Hank surely would have used the name at some point in his life. While his mother only lived for two years after he passed away, there are no accounts of her calling him or writing about him using any name other than Hiram and Hank. Lon Williams lived until 1970 and in multiple interviews with biographers and newspapers, he never once mentioned the name 'King' in association with his son despite multiple opportunities to correct the record. In fact, he provided a lot of evidence to the contrary. There is simply no evidence or reason to believe it was ever part of his name. 
Over the course of almost 70 years now, there have been multiple biographies written about Hank's life and career. You might be surprised to know that the vast majority of them do not give 'King' as any part of Hank's legal name. Here's a list of the most commonly cited and available biographies that do not give "King" as having anything to do with any part of Hank's name:
"Sing a Sad Song: The Life of Hank Williams" by Roger M. Williams (1970) 
"Hank Williams: Country Music's Tragic King" by Jay Caress (1979) 
"Your Cheatin' Heart" by Chet Flippo (1981) 
"Hank Williams: So Lonesome" by Bill Koon (1983) 
"The Life and Times of Hank Williams" by Arnold Rogers and Bruce Gidoll (1993) 
"Hank Williams: The Biography" by Colin Escott and George Merritt (1994) 
"Lovesick Blues: The Life of Hank Williams" by Paul Hemphill (2005) 
I am writing this to provide evidence and proof to any fan or institution that would like to be historically accurate when providing information about Hank Williams. It's not right to attach a name to him that he never used and was not given to him, both of which have been easily proven within this document as fact. While it is easy to understand how all of this confusion began and has been repeated for many years now, let us set the record straight and honor Hank Williams' memory and legacy by using his real name, not one he never used much less even knew about.