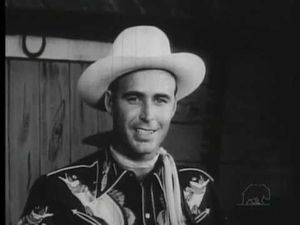 On New Year's Day 1953, Johnny Horton was still trying to get his career off the ground. He was working on KWKH and performing regularly on The Louisiana Hayride when he learned from a radio account that Hank Williams had died in the backseat of his Cadillac en route to a show in Canton, Ohio. Horton was one of several artists that inherited the responsibility of keeping honky tonk music alive following Williams'death, but that wasn't the only thing he inherited from Hank. Nearly nine months later, on September 26, 1953, Horton married Billie Jean, Hank's second wife. 
Horton went on to become one of the era's most successful recording artists with hits on both the country and pop charts. He established himself as a honky tonk singer with rockabilly tendencies, but had his biggest hit with "The Battle of New Orleans" in 1959. The song went number one on both the pop and country charts and reached number 16 on the British charts despite the song being banned by the BBC because they were offended by the lyrics 'the bloody British.' 
Johnny Horton seemed to have it all: good looks, charm, a great singing voice and was also an incredible athlete. Twenty-six colleges had offered him basketball scholarships after his graduation from high school. He played briefly for Lon Morris Junior College and Baylor University. During lean times in the music business, it has been claimed Horton could make as much as $200 a day playing pinball. 
But beneath all of that, Horton was haunted for years by premonitions of his own death. Horton, according to family and friends, had always claimed to be close to the spirit world and often told those close to him he would contact them from beyond the grave. Just weeks before his death, Horton had been backstage at an event with Merle Kilgore, when he shared a premonition about his impending fate with his friend. Specifically, Horton believed he would be killed in an accident related to a drunken man. 
Horton's premonitions of death continued to grow stronger. He tried to get out of a show the Skyline Club in Austin, Texas where Hank Williams gave his final performance just two weeks before his death. Horton stayed in his dressing room between sets, convinced a drunk was going to kill him at the bar that night.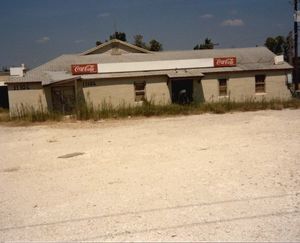 Around midnight on November 4, Horton got behind the wheel of his white 1960 Cadillac and with bass player and manager Tillman Franks riding shotgun and guitar player Tommy Tomlinson in the back, they set off for home in Shreveport, Louisiana. Franks quickly fell asleep and Tomlinson would later recall that he thought Horton was driving too fast. Around 1:30 a.m., their car collided head on with another vehicle on the Little River Bridge, on Highway 79 near Milano, Texas. 
Nineteen year old Texas A&M student James Evan Davis of Brady, Texas was driving the 1958 Ford Ranchero that bounced off either side of the bridges guard rails before smashing head-on into Horton's Cadillac. As Horton had ominously predicted, he was killed by a drunk. Davis was intoxicated at the time of the accident. Horton had in the past avoided head-on collisions by driving into ditches, but on the narrow bridge he had no such opportunity. 
Franks suffered head injuries and Tomlinson suffered multiple leg fractures that eventually led to the amputation of his leg. Davis, the driver of the truck, was not injured. Horton was alive when paramedics arrived on the scene but died en route to the hospital. 
As for Horton's promise of coming back from the grave, Franks believed Horton made good on his promise. Clay Coppedge, in "Letters from Central Texas," published the tale: 
"It happened when Franks was driving to Nashville with singer David Houston. The radio was out and the CB radio was out. It was a quiet drive. Then, according to Franks, the CB kicked in with the opening riffs from Horton's 'One Woman Man.' 'It sounded like a juke box, real full, much louder than a CB would be,' Franks told music writer Colin Escott. 'The whole song played, and then the CB cut out again. I just froze. David did too. I told Merle Kilgore, and he said, 'Johnny's telling you that the song's gonna be a hit all over again.''' 
And it was. In 1989, George Jones recorded the song and it hit the charts, peaking at number 5.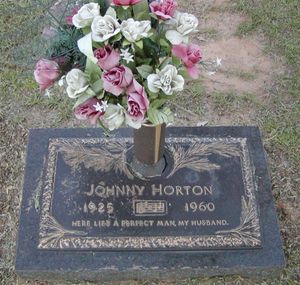 Merle Kilgore would also claim to have had contact from Horton from the afterlife. According to Kilgore's story, on the night that the two had been backstage together, Horton told him that he wanted, if possible, to make contact with Kilgore from beyond the grave. In order to do this, Horton suggested that he would contact his friend with a strange, almost nonsensical phrase, that only he would recognize: "The drummer is a rummer and he can't keep the beat." 
Nearly seven years after Horton's death, Kilgore received a phone call at his home one evening from a man with a northeastern accent. The man was a been a member of a small group of spiritualists based in Greenwich Village, New York. During several of their séance sessions, the group had claimed that the spirit of a "cowboy" had visited them, who called himself "Wharton." This deceased cowboy also had a very peculiar message, apparently for a man named "Kilgore." With the help of a DJ at a local radio station, they had found out about Merle Kilgore, and the late country singer Johnny Horton (not "Wharton), and were able to obtain Kilgore's number through an associate of his there at the station. 
"Mr. Kilgore, there's more," the man's voice sounded over the receiver. "The spirit of Johnny Horton said to give you this message, and the message is this: 'The drummer is a rummer and he can't keep the beat'." 
Kilgore dropped the phone, proclaiming aloud, "Johnny, I got your message!"