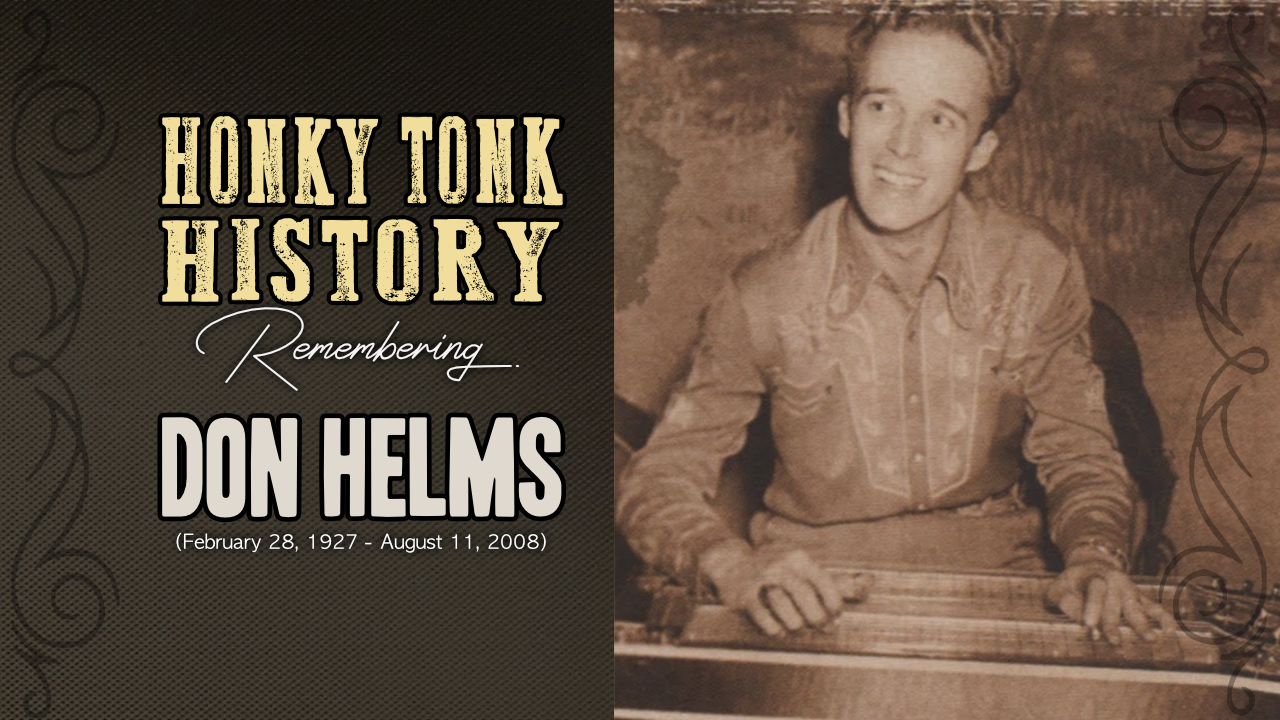 When someone thinks of a Hank Williams song, the first thing you probably think of is Hank's plaintive, heartfelt vocal performance that he consistently delivered on all of his recordings. The second is more than likely the sound of Don Helms' steel guitar. Don's distinctive playing style and the tone of his Gibson Console Grande can be heard on over 120 of Hank Williams' studio recordings. It's a sound that would come to define not only Hank Williams' records, but an entire era of country music. 
Born on February 28, 1927 in New Brockton, Alabama, Donald Hugh Helms was first exposed to country music when he was around 12 years old on Saturday nights when visiting nearby family members that had a radio. They would listen to the Grand Ole Opry and hear Bashful Brother Oswald playing dobro with Roy Acuff. One of his relatives had an old wind-up Victrola and would play 78 records by Bob Wills and The Texas Playboys. When Don would hear Bob say "Take it away Leon, Take it away!" to steel guitarist Leon McAuliffe on records, Don was sold, he was going to play the steel guitar. 
When he was 15 years old, after seeing an ad in the newspaper, Don saved whatever money he could get a hold of and with some help from his father bought his first steel guitar; a solid body single neck Silvertone, made by Sears. It came with an amp, but without electricity, he only got to use it when visiting his relatives. So in order to hear his new steel guitar, Don would play it on the back of an overturned washtub that would resonate just enough for him to hear what he was doing. 
By 1941, with World War II in full swing, Don made his way down to Panama City Beach, Florida to find work at the U.S.Navy shipyards. While there, he met a singer and musician named Neal McCormick. Neal and his band "The Barn Dance Troubadours" played up and down the gulf coast region and regularly appeared on radio stations in the area. Don and Neal became good friends and could often be found at McCormick's club on the weekends sitting in with the band.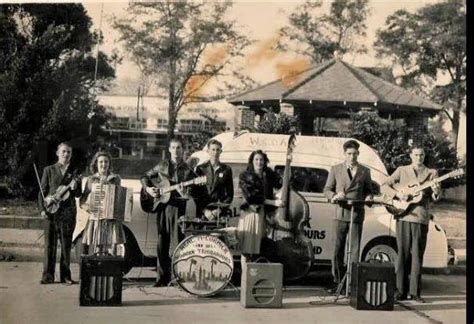 Pappy Neal McCormick's Band
While performing at McCormick's club, Don met Sammy Pruett, a guitar player from Goodwater, Alabama. The two soon formed their own band with two of Don's cousins called "The Alabama Rhythm Boys" and moved back to Alabama. The group primarily played around south Alabama playing clubs on Thursday, Friday and Saturday nights then having the rest of the week off. In August of 1944, one of the band members went to Montgomery to look for clubs they could play and ran into Hank Williams who said he was looking to put a band together for live shows and to work his regular shows on radio station WSFA.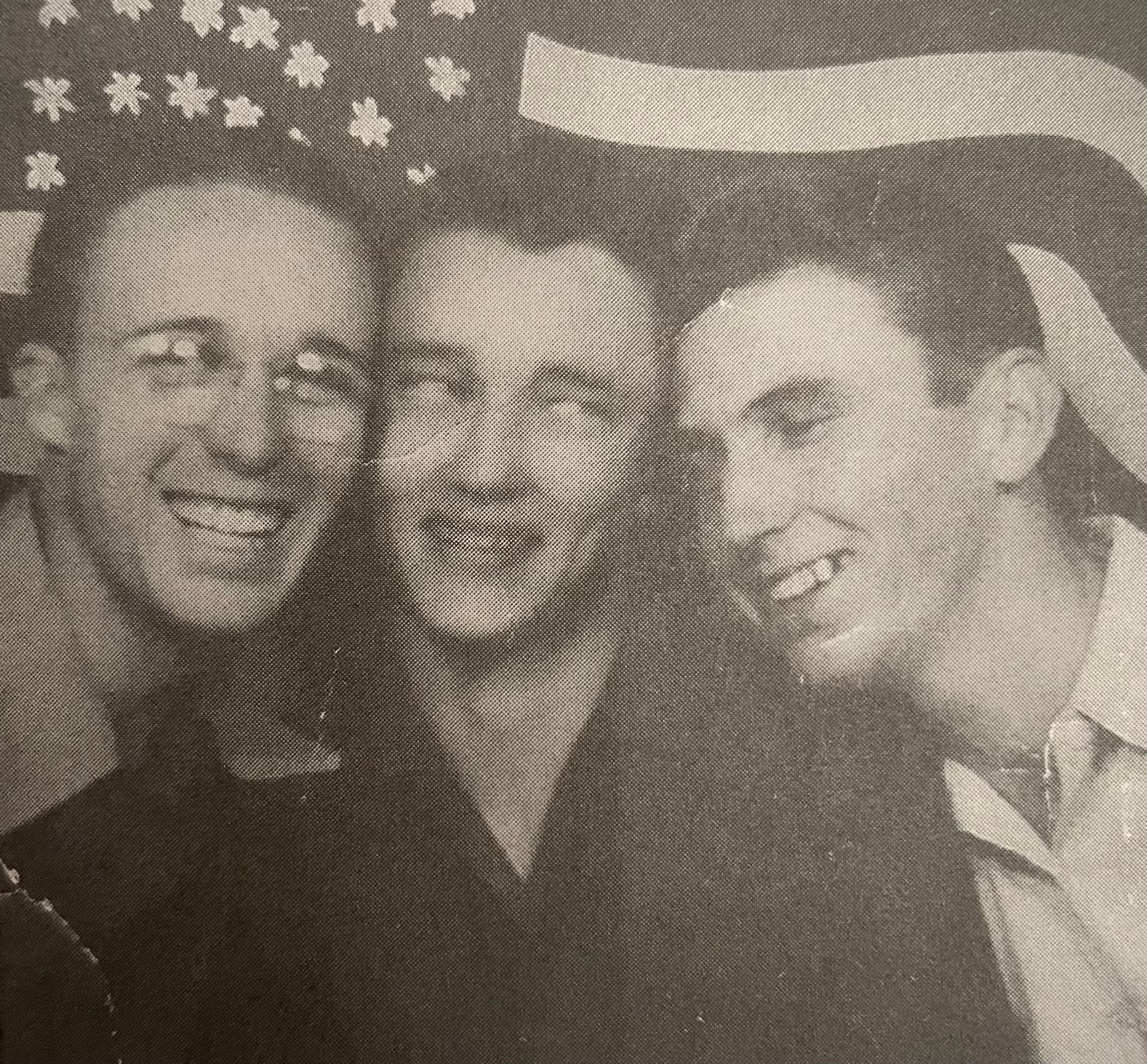 Three of the Alabama Rhythm Boys
The Alabama Rhythm Boys decided to take Hank up on the offer and rode a bus to Montgomery to meet Hank at Art Freehlings music store. When they arrived, Hank wasn't there. They killed some time looking around the store when the door opened and Hank walked in. 
"Are ya'll the band?" Hank asked. 
They said they were and Hank said "Well I'm Hank Williams, follow me." 
He walked them around the corner to a pawn shop and led them inside, asking the man behind the counter, "Jake, have you got any more of them black jacks?" 
He said yes and Hank said to give him four or five of them. 
He passed them out and said "Boys, if y'all are going to play with me by God you will need these." 
Don Helms worked with Hank until September of 1945 when he left the band and joined the Army. He returned to Montgomery and went back to work with Hank in 1947 but declined to go with Hank to Shreveport when he joined the Louisiana Hayride. Don continued playing around south Alabama before moving to Richmond, VA in 1949 in an attempt to get a job playing on the Old Dominion Barn Dance. The job never materialized and Don was out looking for work when he got a phone call from Hank Williams telling him to be in Nashville on Friday night to play the Grand Ole Opry. 
Thursday morning, July 14, 1949, Don was on a train bound for Nashville, Tennessee. After arriving, he checked in at The Hermitage and was told by the bell boy that Hank had been by, but said he would be back shortly. Several minutes later, Hank walked in with Jerry Rivers, Hillous Butrum, Bob McNett. He introduced them all to one another and they departed to get something to eat before heading over to WSM studios to play a few songs from Jim Denny, the head of The Grand Ole Opry. 
They played "Lovesick Blues" and a few other songs after which Denny said "Hell, it sounds good to me!" The next night they were on stage at the Ryman Auditorium for the network portion of the Grand Ole Opry. Don would later say that he was the biggest fan at the Opry that night. He had always tried to visualize what it was like to be on the show and that night he found out. He was on stage with people he had listened to for years; Roy Acuff, Red Foley, Ernest Tubb, Cowboy Copas, Uncle Dave Macon and many others he had been listening to on the radio back in Alabama.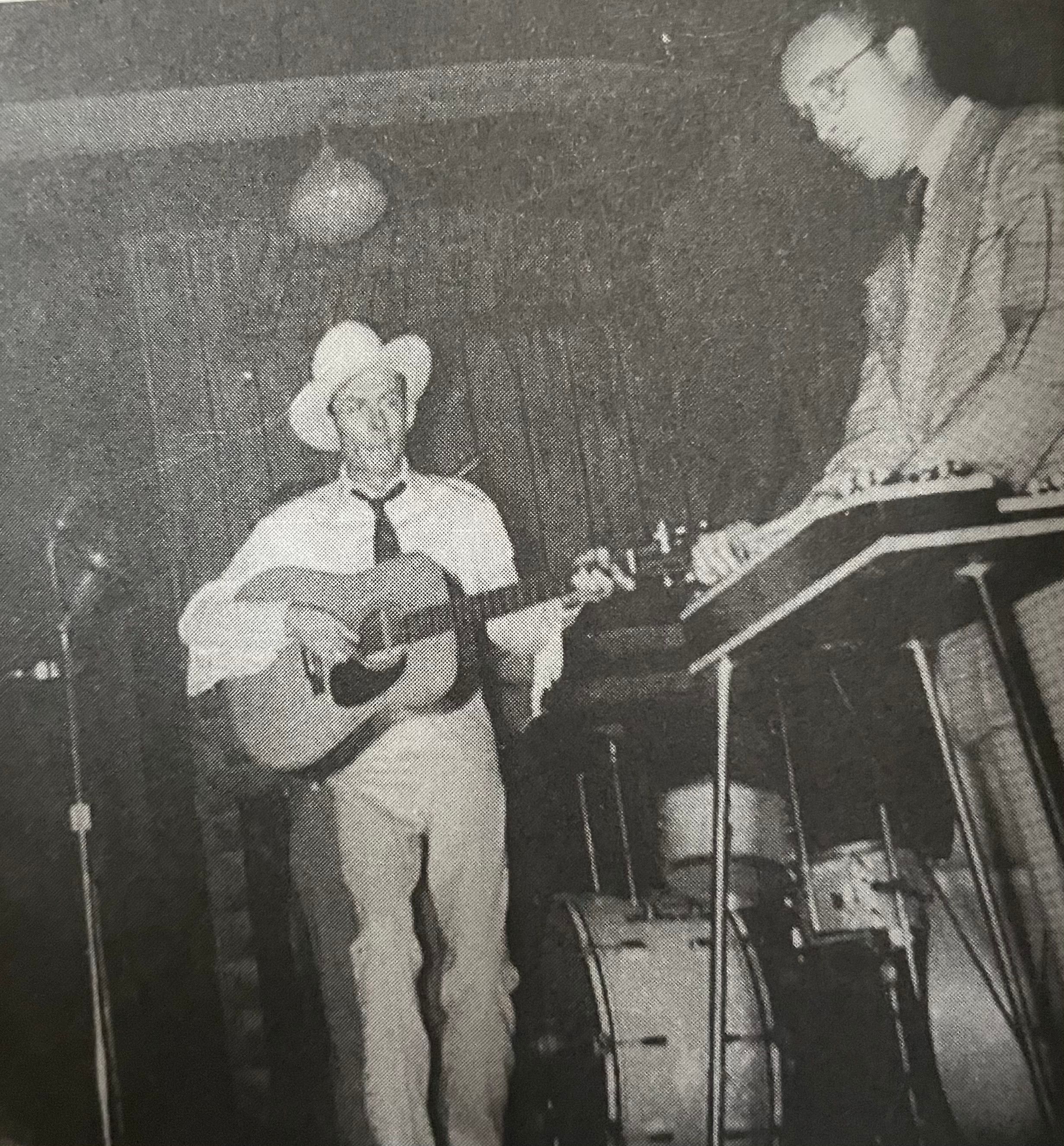 Hank and Don on stage at Tex Williams' Riverside Rancho Club (April 1952)
Don Helms and Jerry Rivers were the most consistent members of the Drifting Cowboys from 1949-1951, appearing with Hank on the majority of his live performances until 1952. It was then that Hank's life began a downward spiral that ultimately ended his life on New Years Day of 1953. The Drifting Cowboys had been working with Ray Price for much of 1952 and after Hank's passing they became The Cherokee Cowboys and continued working for Price. 
In the years that followed, Don established himself as one of the top studio musicians in Nashville playing on recordings by Ernest Tubb, Red Foley,  Lefty Frizzell, Webb Pierce, Johnny Cash, Patsy Cline, Ray Price and just about everyone else who was recording country music in the 1950s. He continued recording and touring over the next 50 years, spending time with Bob Wills' Texas Playboys and Ernest Tubb's Texas Troubadours among others.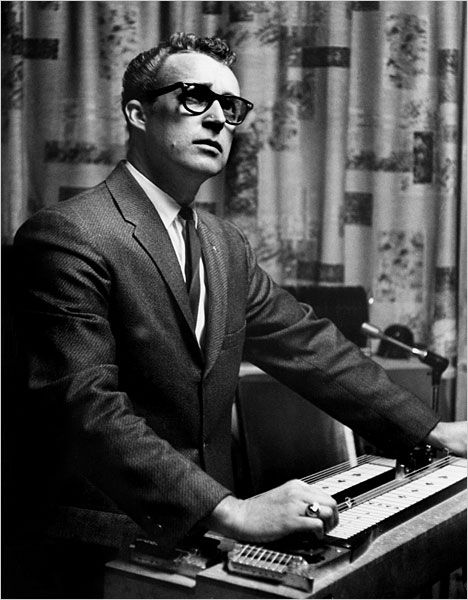 Don passed away on August 11, 2008. His passing made the front page of the Tennessean newspaper in Nashville. In the piece they had written about Don was a quote from Marty Stuart, who called Don "The Dean of Nashville Musicians." I've always thought that was a very appropriate way to think of Don Helms. When he came to town, the music business was in its infancy and he was there shaping it along the way as a studio musician, songwriter, bus driver, the head of two publishing companies and co-operating one of the major management and booking agencies in Nashville up until the early 1990's. 
I think one of the most lasting things about Don's influence and his legacy is that no one ever mentions Hank Williams in a song without it being followed by one of Don's signature steel guitar licks. His playing defined Hank Williams' sound, and that sound has influenced country music now for over sixty years. They say that what we do in life echoes in eternity, and it's very fitting to know that as long as people are playing Hank Williams' music, or mention his name in a song, it will always be accentuated by the sound of Don Helms' steel guitar.