August 15, 1952: With word of his release from radio station WSM and the Grand Ole Opry just starting to hit the newspapers, "Hank Williams Day" was celebrated in the city of Greenville, Alabama with a Homecoming parade and two shows. Sponsored by the Greenville Rotary Club, the event started at 2:00 p.m. at the Greenville Courthouse with the parade being led by the Greenville High School Marching Band. Hank followed behind the band riding shotgun in his newly purchased 1952 olympic blue Cadillac.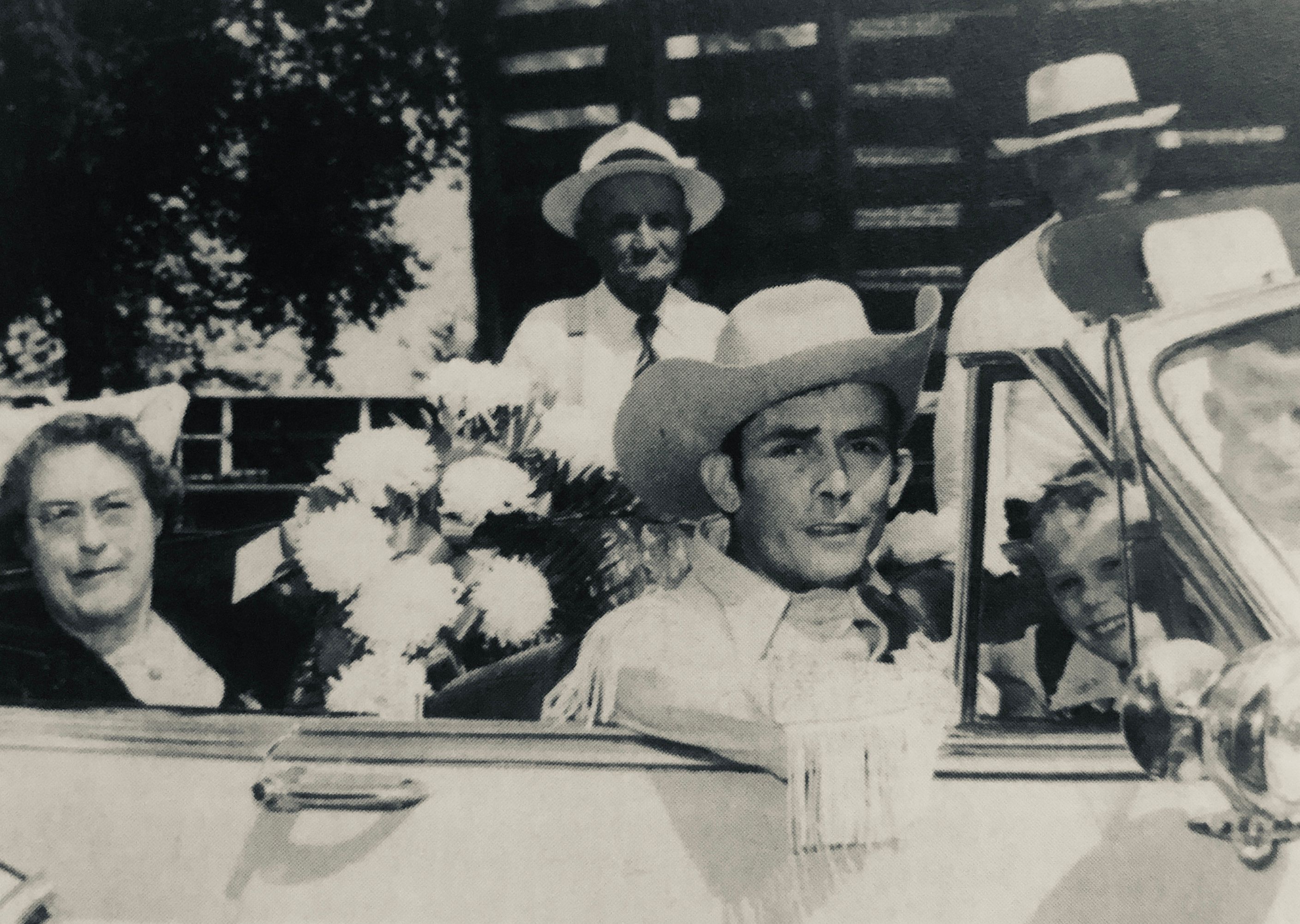 The event culminated with two shows at the Greenville High School Stadium at 3:00 p.m. and 8:00 p.m. Admission to the early show was .78 cents for adults and .46 cents for children. The night performance would set you back $1.03 for adults and .58 cents for children. The shows were a benefit for the Greenville High School Marching Band with $1000 dollars of the money already marked for new uniforms. Needless to say they were expecting a big crowd for Butler County's most famous son. 
The event was promoted as being associated with the Grand Ole Opry but no other Opry members were advertised as being a part of the festivities nor were any of them present. It is also very possibly these shows were the last time the longest running and most stable lineup of the Drifting Cowboys performed together with Hank. Advertised on the bill with him as headliners themselves were Don Helms, Jerry Rivers, Sammy Pruett, and Cedric Rainwater who was billed twice for some reason, under his stage name as well as his real name, Howard Watts. 
The shows were a success with the thousands they were expecting attending. The only complaint seemed to come from an attendee who wrote to the Greenville Advocate newspaper the following week stating; 
"Greenville needs a permanent parade Marshall- a man who will be on the job to line up every parade and allow the various units in the parade to march off at proper intervals. The Hank Williams Parade here last Friday was an example of just what a parade ought not be. The automobiles in the line of march were proceeding almost bumper to bumper. A circus parade director can take two elephants, a camel, six horses and two circus wagons and stretch it out a mile, giving plenty of interval between each unit, giving folks on the sidewalks time to see one part of the parade before another is pushing it out of the way." 
After the shows, Hank returned to his mother's boarding house on South McDonough St. in Montgomery before departing for a retreat to a cabin on Lake Martin's Kowaliga Bay, the place that would provide the inspiration for one of his most popular songs, "Kaw-Liga." 
---